Small Green Roofs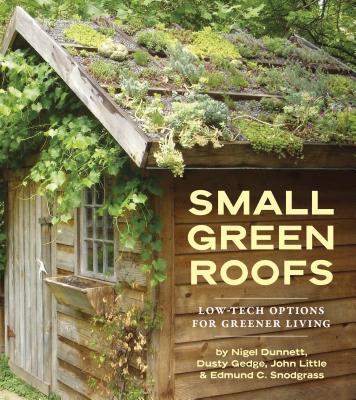 Small Green Roofs
Low-Tech Options for Greener Living
Timber Press (OR), Paperback, 9781604690590, 256pp.
Publication Date: April 27, 2011
* Individual store prices may vary.
Buy at Local Store
Enter your zip code below to purchase from an indie close to you.
or
Buy Here
Description
Until now, the green roof movement has been limited to large-scale, professional endeavors and public buildings. But homeowners everywhere are catching onto the benefits of a green roof water conservation, energy savings, and storm water management. In "Small Green Roofs "authors Dunnett, Gedge, Little, and Snodgrass profile ordinary homeowners who scaled green roofs down to the domestic level.
"Small Green Roofs "is the first book to focus on small-scale and domestic green roofs. More than forty profiles of small and domestic-scale projects of all shapes and sizes include green roofs on sheds, garden offices, studios, garages, houses, bicycle sheds, and other small structures, as well as several community projects. For each project, details are given for design, construction, and installation, as well as how-to tips on how the roof was planted and cared for.
For readers looking for inspiration when hiring a contractor or taking the adventurous step of building their own, "Small Green Roofs" provides the knowledge and encouragement to make it possible.

About the Author
Nigel Dunnett is a Reader in Urban Horticulture in the landscape department at the University of Sheffield, where he has developed innovative research programs on naturalistic and ecologically informed planting for gardens and public landscapes. He is director of The Green Roof Centre, Sheffield, and acts widely as a consultant on green roof design and planting, and sustainable garden and landscape design in general.
He writes regularly for landscape and garden publications, including "Gardens Illustrated" and "The Garden". With Noel Kingsbury he wrote "Planting Green Roofs and Living Walls"; with Andy Clayden, "Rain Gardens: Managing Water Sustainably in the Garden and Designed Landscape".
Dusty Gedge is a green roof campaigner and founder of livingroofs.org, an independent green roofs association that promotes vegetated roof structures in urban and rural areas. With a background in community theatre, he is passionate about nature conservation and birdwatching.
A frequent television and conference presenter on green roofs and biodiversity, he is particularly interested in teaching amateurs how to make green roofs. In 2004 he was awarded the Andrew Lees Memorial Award at the annual British Environment and Media Awards. He is currently president of the European Federation of Green Roof Associations.
John Little is uniquely suited to the task of relating the philosophy of Bruce Lee and his approach to life. Little has a degree in philosophy from McMaster University in Hamilton, Ontario, Canada, is the author of two books on health and fitness (having spent over fifteen years as a writer for several fitness magazines), and is himself a student of Lee's art of jeet kune do. Selected by the Bruce Lee estate, Little is the only person who has ever been authorized to review the entirety of Lee's personal notes, sketches, and reading annotations and to edit books on the subject of Lee's martial art and its far-reaching philosophical underpinnings. Little's keen awareness of the subtleties of both Eastern and Western philosophy coupled with a respect for the preservation of the essence of Lee's words and meaning give this book an integrity that is all too rare.