The Guide to West Coast Cheese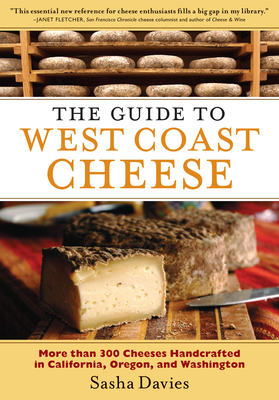 The Guide to West Coast Cheese
More Than 300 Cheeses Handcrafted in California, Oregon, and Washington
Timber Press (OR), Paperback, 9781604690903, 224pp.
Publication Date: August 3, 2010
* Individual store prices may vary.
Buy at Local Store
Enter your zip code below to purchase from an indie close to you.
or
Not Currently Available for Direct Purchase
Description
A robust sheep's milk cheese studded with whole peppercorns. A sharp, clothbound Cheddar that pairs perfectly with a nutty brown ale and a dollop of mango chutney. A tangy, nettle-wrapped cheese made in celebration of the cows returning to pasture in early spring. A light and cakey goat cheese with notes of pine nuts and Meyer lemons. These are just a few of the hundreds of delicious cheeses with origins up and down the West Coast that Sasha Davies chronicles in her detailed exploration of this exciting cheese region.
From just-emerging, small-scale cheeses to those that have earned international recognition, the spotlight is on the vibrant hues, bold aromas, and surprising yet palate-pleasing flavors that make these cheeses so unique. Rich with information, this accessible guide examines the key factors that influence the distinctive character of every cheese, and includes beverage pairing ideas, serving suggestions, and fascinating features on cheesemaking and individual producers.
Whether at the market, your local cheese shop, or while traveling, this is the ultimate reference for selecting, identifying, and savoring the cheeses of California, Oregon, and Washington.
About the Author
Sasha Davies is an author and cheesemonger in Portland, Oregon. She started her cheese career in New York City as an apprentice in the cheese caves of Artisanal Premium Cheese, going on to manage the caves at Murray's Cheese, serve as a resident cheese expert for Marlow & Sons, and consult for cheese shops across America. Sasha serves on the board of the American Cheese Society.
Her interest in cheese led her to embark on a tour of 45 American cheesemakers, a project documented at http: //www.cheesebyhand.com. Her first book, The Guide to West Coast Cheese: More than 300 Cheeses Handcrafted in California, Oregon, and Washington, was published in September 2010.
Davies has taught classes at the French Culinary Institute and the Cheese School of San Francisco. Other food writing by Davies has appeared in Mix Magazine, the Diner Journal, and the cheese-focused magazine Culture.