Teaming with Microbes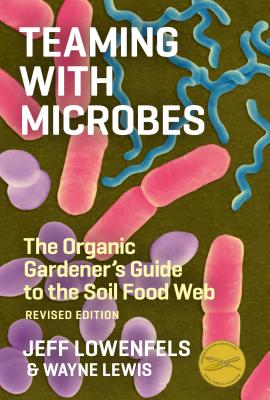 Teaming with Microbes
The Organic Gardener's Guide to the Soil Food Web
Timber Press (OR), Hardcover, 9781604691139, 220pp.
Publication Date: February 24, 2010
* Individual store prices may vary.
Buy Now
or
Shop Local
Enter your zip code below to purchase from an indie close to you.
Description
Smart gardeners know that soil is anything but an inert substance. Healthy soil is teeming with life not just earthworms and insects, but a staggering multitude of bacteria, fungi, and other microorganisms. When we use chemical fertilizers, we injure the microbial life that sustains healthy plants, and thus become increasingly dependent on an arsenal of artificial substances, many of them toxic to humans as well as other forms of life. But there is an alternative to this vicious circle: to garden in a way that strengthens, rather than destroys, the soil food web the complex world of soil-dwelling organisms whose interactions create a nurturing environment for plants. By eschewing jargon and overly technical language, the authors make the benefits of cultivating the soil food web available to a wide audience, from devotees of organic gardening techniques to weekend gardeners who simply want to grow healthy, vigorous plants without resorting to chemicals.

About the Author
Jeff Lowenfels is a weekly columnist for the "Anchorage Daily News". He is the founder of Plant a Row for The Hungry, a program that has created over 14 million meals to feed the hungry. A popular national garden writer and leading proponent of gardening using the concepts of the soil food web, Jeff is the former president of the Garden Writers of America and was made a GWA Fellow in 1999. In 2005, he was inducted into the GWA Hall of Fame. He lives in Anchorage, Alaska.

Wayne Lewis is a lifelong Alaskan gardener. He has worked with Jeff Lowenfels on many projects over the past 25 years, including the now national Plant a Row for the Hungry program (started in Anchorage by Jeff), which encourages gardeners to donate a portion of their harvest to charitable organizations in their community.