Sensation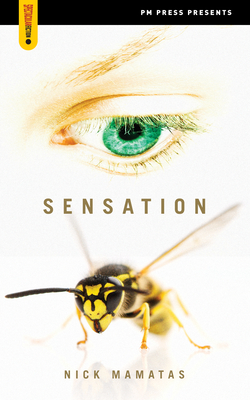 Sensation
PM Press, Paperback, 9781604863543, 198pp.
Publication Date: May 1, 2011
* Individual store prices may vary.
Buy at Local Store
Enter your zip code below to purchase from an indie close to you.
or
Not Currently Available for Direct Purchase
Description
When Julia Hernandez leaves her husband, shoots a real estate developer, and then vanishes without a trace, she slips out of the world she knew and into the Simulacruma place where human history is both guided and thwarted by the conflict between a species of anarchist wasps and a collective of hyperintelligent spiders. When Julia's ex-husband Raymond spots her in a grocery store he doesn't usually patronize, he's soon drawn into an underworld of radical political gestures where Julia is the new media sensation of both this world and the Simulacrum. Told ultimately from the collective point of view of another species, this allegorical novel plays with the elements of the Simulacrum apparent in real lifemedia reports, business speak, blog entries, text messages, psychological-evaluation forms, and the lies lovers tell one anotherand poses a fascinating idea that displaces human beings from the center of the universe and makes them simply the pawns of two warring species.
Praise For Sensation…
"The Majestic Plural, or Royal We, is well knownSensation introduces the Arachnid Plural, the we of spiders, the ones that live inside you. The spiders care about youdeeplyand want to use you in a millennial war against certain parasitic wasps. No, I was wrong. The spiders only want to help. So let them in."  Zachary Mason, New York Times-best-selling author, The Lost Books of the Odyssey

"Mamatas is a powerfully acerbic writer, both in fiction and online. His acid wit is infamous, and it is on splendid display in Sensation, which is alive with scornful insight about pop culture, the net, and politics. I recommend it highly." Cory Doctorow, www.boingboing.net

"(A) self-consciously [post-modern] third novel. This accumulation of pop-culture babble, layered with thin insight and metatextual archness, is amusing enough in an epigrammatic way." Publishers Weekly (June 22, 2011)

"Sensation, in many ways, does what all good science fiction aims to do: it offers a critique of the status quo. It depicts an alternative in order to highlight the problems in our reality." www.htmlgiant.com