Owning Our Future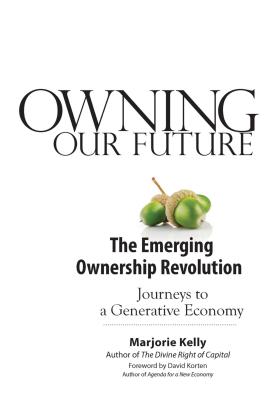 Owning Our Future
The Emerging Ownership Revolution
Berrett-Koehler Publishers, Paperback, 9781605093109, 246pp.
Publication Date: June 4, 2012
* Individual store prices may vary.
Buy at Local Store
Enter your zip code below to purchase from an indie close to you.
or
Buy Here
Description
All of the current attempts to address the economic collapse are overlooking an essential factor: ownership. So long as businesses are set up to focus exclusively on maximizing monetary returns per quarter for a narrow group of individuals the economy will be subject to crippling boom-and-bust cycles. But now people are experimenting with new forms of enterprise ownership--we are in the midst of the most creative period of economic innovation since the dawn of the Industrial Revolution. Marjorie Kelly calls these new forms generative: life-serving, aimed at creating the conditions for life for many generations to come. They are in contrast to the dominant ownership designs of today, which can be called extractive: aimed at extracting maximum short-term financial wealth.
To understand these emerging ownership alternatives, Kelly reports from all over the world, visiting a community-owned wind facility in Massachusetts, a lobster cooperative in Maine, a multi-billion-dollar employee-owned firm in London, a foundation-owned pharmaceutical in Denmark, a farmer-owned dairy in Wisconsin, and other places where an economy that works for all is being built.
This is not a moment for old solutions and tired approaches. As we enter a new era of limits, alternative ownership designs can help it become a new era of fairness, sustainability, and community.
About the Author
Kelly is cofounder and editor of Business Ethics. She has been a driving force in the movement to bring social responsibility to business since 1987. She lives in Minneapolis.

David C. Korten worked for more than thirty-five years in preeminent business, academic, and international development institutions before he turned away from the establishment to work exclusively with public interest citizen-action groups. Korten earned his MBA and PhD at the Stanford University Graduate School of Business. He has written numerous books, including Agenda for a New Economy, the international bestseller When Corporations Rule the World, The Great Turning, and The Post-Corporate World.