Fool Me Twice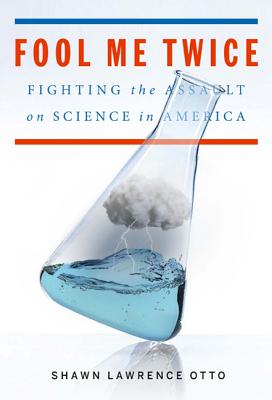 Fool Me Twice
Fighting the Assault on Science in America
Rodale Books, Hardcover, 9781605292175, 376pp.
Publication Date: October 11, 2011
* Individual store prices may vary.
Buy Now
or
Shop Local
Enter your zip code below to purchase from an indie close to you.
Description
"Whenever the people are well informed," Thomas Jefferson wrote, "they can be trusted with their own government."
But what happens in a world dominated by complex science? Are the people still well-enough informed to be trusted with their own government? And with less than 2 percent of Congress with any professional background in science, how can our government be trusted to lead us in the right direction?
Will the media save us? Don't count on it. In early 2008, of the 2,975 questions asked the candidates for president just six mentioned the words "global warming" or "climate change," the greatest policy challenge facing America. To put that in perspective, three questions mentioned UFOs.
Today the world's major unsolved challenges all revolve around science. By the 2012 election cycle, at a time when science is influencing every aspect of modern life, antiscience views from climate-change denial to creationism to vaccine refusal have become mainstream.
Faced with the daunting challenges of an environment under siege, an exploding population, a falling economy and an education system slipping behind, our elected leaders are hard at work ... passing resolutions that say climate change is not real and astrology can control the weather.
Shawn Lawrence Otto has written a behind-the-scenes look at how the government, our politics, and the media prevent us from finding the real solutions we need. "Fool Me Twice" is the clever, outraged, and frightening account of America's relationship with science a relationship that is on the rocks at the very time we need it most.
About the Author
Shawn Lawrence Otto is the screenwriter and coproducer of the Oscar-nominated film "House of Sand and Fog". He also writes for such top studios as DreamWorks and Lions Gate. His nonfiction has appeared in "Rolling Stone, Science", and "Salon", among other publications. He lives in Minneapolis.