The End of Overeating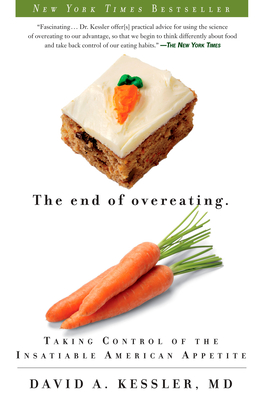 The End of Overeating
Taking Control of the Insatiable American Appetite
Rodale Books, Paperback, 9781605294575, 330pp.
Publication Date: September 14, 2010
* Individual store prices may vary.
Buy Now
or
Shop Local
Enter your zip code below to purchase from an indie close to you.
Description
Dr. David A. Kessler, the dynamic and controversial former FDA commissioner known for his crusade against the tobacco industry, is taking on another business that's making Americans sick: the food industry. In The End of Overeating, Dr. Kessler shows us how our brain chemistry has been hijacked by the foods we most love to eat: those that contain stimulating combinations of fat, sugar, and salt.
Drawn from the latest brain science as well as interviews with top physicians and food industry insiders, The End of Overeating exposes the food industry's aggressive marketing tactics and reveals shocking facts about how we lost control over food and what we can do to get it back. For the millions of people struggling with their weight as well as those of us who simply can't seem to eat our favorite foods in moderation, Dr. Kessler's cutting-edge investigation offers valuable insights and practical answers for America's largest-ever public health crisis. There has never been a more thorough, compelling, or in-depth analysis of why we eat the way we do.
About the Author
Kessler is Dean of the Yale University School of Medicine. He served as Commissioner of the U.S. Food and Drug Administration under Presidents George Bush and Bill Clinton, from 1990 to 1997. He is a graduate of Amherst College, Harvard Medical School, and the University of Chicago Law School.
Praise For The End of Overeating…
"Dr. David Kessler has written a fascinating account of the science of human appetite, as well as its exploitation by the food industry. The End of Overeating is an invaluable contribution to the national conversation about the catastrophe that is the modern American diet." --Michael Pollan, author of In Defense of Food
"David A. Kessler, who led the battle against the tobacco industry, now joins the fight against obesity. His message is important: The problem is not only the behavior of profit-driven food companies, but also the daily choices that each one of us makes." —Eric Schlosser, author of Fast Food Nation
"David Kessler's fascinating book is essential for anyone interested in learning more about how corporate greed and human psychology have created a national health crisis." —Alice Waters, chef and owner of Chez Panisse
"Disturbing, thought-provoking, and important." —Anthony Bourdain, author of Kitchen Confidential
"A compelling book about overeating and the obesity pandemic. Dr. Kessler thoroughly examines the nature of our relationship with food and why it is critical to understand and modify our behavior to reverse this global threat to health and well-being." —David Satcher, former Surgeon General and director of the Centers for Disease Control and Prevention
 "A fascinating, unique book by a brilliant public health leader." —
Donna Shalala, former Secretary of the U.S. Department of Health and Human Services