Organic Manifesto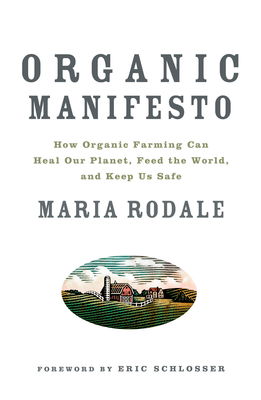 Organic Manifesto
How Organic Farming Can Heal Our Planet, Feed the World, and Keep Us Safe
Rodale Books, Hardcover, 9781605294858, 208pp.
Publication Date: March 16, 2010
* Individual store prices may vary.
Buy at Local Store
Enter your zip code below to purchase from an indie close to you.
or
Buy Here
Description
Rodale was founded on the belief that organic gardening is the key to better health both for us and for the planet, and never has this message been more urgent. Now, with "Organic Manifesto," Maria Rodale, chairman of Rodale, sheds new light on the state of 21st century farming. She examines the unholy alliances that have formed between the chemical companies that produce fertilizer and genetically altered seeds, the agricultural educational system that is virtually subsidized by those same companies, and the government agencies in thrall to powerful lobbyists, all of which perpetuate dangerous farming practices and deliberate misconceptions about organic farming and foods. Interviews with government officials, doctors, scientists, and farmers from coast to coast bolster her position that chemical-free farming may be the single most effective tool we have to protect our environment and, even more important, our health.
About the Author
Maria Rodale is the founding editor of "Organic Style" magazine and vice chairman of Rodale, Inc., which she led into a hugely successful expansion and business revolution. She has been featured in national media including National Public Radio, "The Oprah Winfrey Show, " and "USA Today." Maria was twenty and unmarried when she gave birth to Maya Rodale, her daughter, and they have been on a journey of mutual self-discovery, honesty, and levity ever since. Maya was graduated recently from NYU's Gallatin School of Individualized Study, where she focused on writing and women in literature.
Maria is married and also has a daughter, Eve. They live in a small town in Pennsylvania. Maya lives in New York City with her little dog, Penelope, a Shiba Inu.
Praise For Organic Manifesto…
Granddaughter to Rodale's founder, and its current CEO, the author offers a passionate, evenhanded, nonacademic argument for the overall wisdom (economical and ecological) for farming organic. Deeply aware of the public confusion and suspicion surrounding organic farming as a "hippie" cause, Rodale first persuades readers that years of chemical and pesticide use have poisoned our environment<not hard to do, considering elevated cancer levels, increases in asthma, and fertility disorders, among other afflictions attributed to environmental factors. Rodale places blame for U.S. reliance on chemical saturated farming, especially employing the use of genetically modified seeds, mostly on powerful chemical companies' manipulative advertising doublespeak, but also on government protection of conventional farmers. In her strongest section delineating ³a year in the life of a chemical farmer,² Rodale shares clarifying findings from her own focus group that these farmers become dependent on chemical companies for their products and can't see another way, even when costs keep going up, soil is depleted, and yields decrease. In the end, Rodale does a vigorous job of debunking myths plaguing both sides. -- Publisher's Weekly, May 2010