The Sublime Engine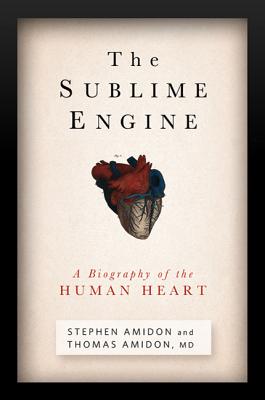 The Sublime Engine
Rodale Press, Hardcover, 9781605295848, 242pp.
Publication Date: January 18, 2011
* Individual store prices may vary.
Buy at Local Store
Enter your zip code below to purchase from an indie close to you.
or
Not Currently Available for Direct Purchase
Description
The heart has always captured the human imagination. It is the repository of our deepest religious and
artistic impulses, the organ whose steady functioning is understood, both literally and symbolically, as
the very life force itself. The Sublime Engine explores the profound sense of awe every person feels when they ponder the miracle encased within the ribs.
In this lyrical history, a critically acclaimed novelist and a leading cardiologist who happen to be brothers draw upon history, science, religion, popular culture, and literature to illuminate all of the heart's physical and figurative chambers. Divided into six sections, The Sublime Engine by Stephen Amidon and Thomas Amidon, MD traces the heart's sway over the human imagination from the time of the Egyptians and ancient Greece, through the Middle Ages and Renaissance, up to the modern era and beyond. More than just a work of scientific or cultural history, it is a biography of the single most important symbol of our humanity. Erudite, witty, and unexpected, The Sublime Engine makes the heart leap off the page.
About the Author
Stephen Amidon is the author of six novels, including The New City and Human Capital. His fiction has been published in 15 countries, and he is a regular contributor of essays and criticism to newspapers and magazines in the United States and United Kingdom.Thomas Amidon, MD, has been cardiology section chief at Overlake Hospital in Bellevue, WA, and a clinical instructor at Washington University. He is the author of dozens of articles and coauthor of the cardiology chapter in a topselling medical textbook.
Praise For The Sublime Engine…
"What a gem!  Sparkling, multi-faceted, brilliant in every sense of the word."
—Joe McGinniss, author of Never Enough "I cannot imagine a more enjoyable and informative, if not mesmerizing book, at once fascinating in detail and somehow larger than the sum of its parts. A biography of the heart is compelling because it isn't about the heart so much as it is about being human. And this condition is invoked and explored, made dramatic and compelling through an astonishing collection of historical details. A lovely book, moving, witty, and, of course, told with great heart."
—Craig Nova, author of The Informer and The Good Son "No matter how much you think you know about the heart, you will be enlightened and entertained by this fascinating book.  From its image as a religious icon and the seat of thoughts and feelings, we are led through the great discoveries of its function, its diseases, and its cures, including the most up-to-date therapies and promising clinical research."
—William Parmley, M.D., former Chief of Cardiology, UCSF, past president of the American College of Cardiology