Fight Less, Love More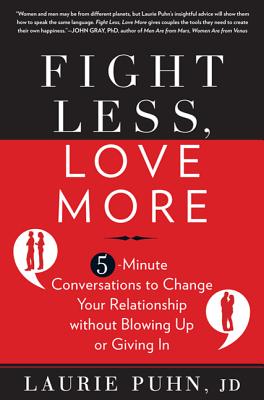 Fight Less, Love More
5-Minute Conversations to Change Your Relationship Without Blowing Up or Giving in
Rodale Books, Hardcover, 9781605295985, 262pp.
Publication Date: October 12, 2010
* Individual store prices may vary.
Not Currently Available for Direct Purchase
or
Shop Local
Enter your zip code below to purchase from an indie close to you.
Description
Harvard-trained lawyer and family and divorce mediator Laurie Puhn shows busy couples how to stop fighting and start communicating.
It happens every day a simple exchange or harmless response turns into a heated debate or worse, an all-out battle. Hard-pressed for quality time with our partners and spouses, it's easy to fall into a poor communication routine. How can two people who love one another so much have such difficulty talking to one another?
Drawing on her expertise in legal mediation and conflict resolution, Puhn's fresh approach gives simple, 5-minute conversations that will instantly improve communication as well as the quality of relationships. In Fight Less, Love More, learn how to identify and conquer the poor verbal habits, instinctive responses, and emotional reasoning that can cloud judgment and ultimately lead to the deterioration of otherwise healthy relationships.
Love is conditional, argues Puhn, and for love to survive, couples don't need to talk more they need to talk better. With exercises, examples, and sample scripts, Puhn's simple 5-minute strategies promise immediate results and provide long-lasting communication skills that couples can confidently employ when faced with future conflict.
About the Author
Laurie Puhn, J.D., is a Harvard-educated lawyer and professional mediator. She is the founder and president of the Laurie Puhn Institute, and a dynamic speaker who frequently addresses the academic, medical, legal, business, and personal growth communities.
Praise For Fight Less, Love More…
Women and men may be from different planets, but Laurie Puhn's insightful advice will show them how to speak the same language and create a relationship of mutual respect and support. Fight Less Love More makes the considerable task of improving your relationship astonishingly simple, and gives couples the tools they need to create their own happiness. John Gray, Ph. D., author of Men are from Mars, Women are from Venus   Laurie Puhn offers a no-frills book about how to have a great relationship. Fight Less, Love More contains brilliant and precise advice; the underlying implication being that healthy, loving couples are sane and smart--a sentiment that shines through on every page of clear, sensible information. I would recommend it as required reading for any couple. Harville Hendrix, Ph. D., author of Getting the Love You Want: A Guide for Couples
 Most everyone I know would be willing to invest 5 minutes a day to improve their relationship.  Laurie Puhn shows us how to use those few minutes to build lasting love. I highly recommend Fight Less, Love More.
Gary Chapman, author of The Five Love Languages
Perhaps no conflict is more problematic for more people than that between partners and spouses.  In this practical handbook, Laurie Puhn offers sound and pithy advice for today's time-pressed couples on how to deal with their differences in a smart and kind manner.
William Ury, Ph. D. co-founder Harvard's Program on Negotiation, co-author of Getting to Yes and author of
The Power of a Positive No
 Laurie Puhn hands couples who have lost their way a roadmap back to the relationship they want. Smart, empowering, and insightful,
Fight Less, Love More
offers real-life strategies for ending the cycle of fighting, hurt, and poor communication in which so many couples become entrenched.
Rachel Greenwald, author of Find a Husband After 35 and
Have Him at Hello
No matter how much two people love each other in the beginning, at some point most couples end up in the same fight over and over--and inadvertently stepping on land mines that restart it all once again. Laurie's new book explains how to step beyond habitual patterns and reconnect with the person you fell in love with.
Susan Piver, author of The Wisdom of a Broken Heart and
The Hard Questions
Ever been in one of those here-we-go-again arguments with your mate, wishing someone could step in to help you sort things out once and for all? That's where Laurie Puhn comes in. Written with humor and directness, her book will help you create the loving communication that you long for. Read it now before you're tempted to say, "honey, can we talk?"
Scott Haltzman, M.D., author of
The Secrets of Happily Married Men
"With advice that is nonjudgmental, extremely efficient, and clearly understandable, Puhn covers all aspects of romantic relationships, from problems like infidelity to boundaries giving couples of every strip something of benefit. Readers will gain a great deal from her contribution to the genre."
Publishers Weekly