The Town That Food Saved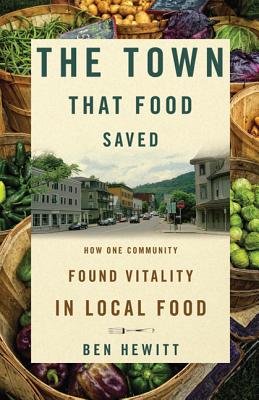 The Town That Food Saved
How One Community Found Vitality in Local Food
Rodale Books, Hardcover, 9781605296869, 234pp.
Publication Date: March 16, 2010
* Individual store prices may vary.
Buy Now
or
Shop Local
Enter your zip code below to purchase from an indie close to you.
Description
Over the past 3 years, Hardwick, Vermont, a typical hardscrabble farming community of 3,000 residents, has jump-started its economy and redefined its self-image through a local, self-sustaining food system unlike anything else in America. Even as the recent financial downturn threatens to cripple small businesses and privately owned farms, a stunning number of food-based businesses have grown in the region-Vermont Soy, Jasper Hill Farm, Pete's Greens, Patchwork Farm & Bakery, Apple Cheek Farm, Claire's Restaurant and Bar, and Bonnieview Farm, to name only a few. The mostly young entrepreneurs have created a network of community support; they meet regularly to share advice, equipment, and business plans, and to loan each other capital. Hardwick is fast becoming a model for other communities to replicate its success. Author Ben Hewitt presents the captivating story of a small town coming back to life, "The Town That Food Saved "is narrative nonfiction at its best: full of colorful characters and grounded in an idea that will revolutionize the way we eat.
About the Author
Ben Hewitt lives in Cabot, Vermont with his wife, Penny, and sons Fin and Rye. Over the past 17 years, the Hewitt family has transformed an over-grazed pasture and neglected woodlot into a thriving homestead, producing an abundance of nutrient dense food in biologically active soils.
Utilizing a combination of permaculture design, wildcrafting, and small-scale regenerative agriculture they call practiculture, the Hewitt family raises and forages better than 90% of their calories, with a focus on pastured meats, healthy fats, and fermented vegetables. They also produce all of their lumber and firewood, and practice traditional land skills such as hide tanning and basket making.
The Hewitts consult frequently on homestead-scale production and processing of nutrient dense foods, as well as homestead planning, design, and implementation. They also run Lazy Mill Living Arts (www.lazymilllivingarts.com), which offers workshops in a wide variety of traditional land skills.
Ben is the author of four other books, includingThe Town That Food SavedandHome Grown. He blogs atwww.benhewitt.net.
Praise For The Town That Food Saved…
"This book is useful because it raises numerous questions about the practicalities and efficiencies of local food production—but also provides solutions and examples of success in small-scale agriculture. It begins to answer the questions Hewitt poses as they relate to Hardwick, and as they relate to the rest of us."- Leah Douglas, SeriousEats.com