Martian Summer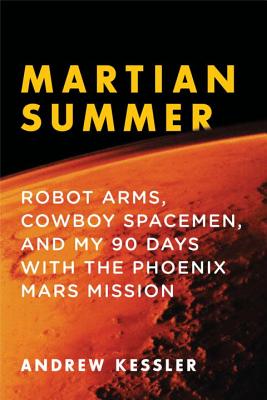 Martian Summer
Robot Arms, Cowboy Spacemen, and My 90 Days with the Phoenix Mars Mission
Pegasus Books, Hardcover, 9781605981765, 352pp.
Publication Date: April 2011
* Individual store prices may vary.
Shop Local
Enter your zip code below to find indies closest to you.
Description
The Phoenix Mars mission was the first man-made probe ever sent to the Martian arctic. They wanted to find out how climate change can turn a warm, wet planet (read: Earth) into a cold, barren desert (read: Mars). That might seem like a trivial pursuit, but it's probably the most impressive feat we humans can achiee, and it took the culmination of nearly the entirety of human knowledge to do it Along the way, Phoenix discovered a giant frozen ocean trapped beneath the north pole of Mars, exotic food for aliens and liquid water. This is not science fiction. It's fact. Not bad for a summer holiday.
About the Author
Andrew Kessler is the former creative director at Campfire. He co-produced "Mars: The" "Quest for Life "on the Discovery Channel and holds a degree in mathematics from the University of California, Berkeley.
Saturday, Apr 16, 2011
In the summer of 2008, Brooklyn writer Andrew Kessler spent three months among the scientists and engineers who were exploring the small grains and vast vistas of Mars through the lenses and limbs of NASA's Phoenix Mars Lander without ever leaving mission control in Tucson. Scott Simon talks with Kessler about his book Martian Summer: Robot Arms, Cowboy Spacemen, and My 90 Days with the Phoenix Mars Mission. More at NPR.org