The Queen's Agent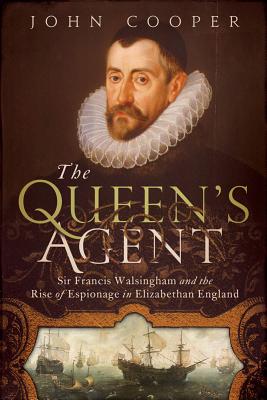 The Queen's Agent
Sir Francis Walsingham and the Rise of Espionage in Elizabethan England
Pegasus Books, Hardcover, 9781605984100, 375pp.
Publication Date: February 13, 2013
* Individual store prices may vary.
Buy Now
or
Shop Local
Enter your zip code below to purchase from an indie close to you.
Description
Elizabeth I came to the throne at a time of insecurity and unrest. Rivals threatened her reign; England was a Protestant island, isolated in a sea of Catholic countries. Spain plotted an invasion, but Elizabeth's Secretary, Sir Francis Walsingham, was prepared to do whatever it took to protect her. He ran a network of agents in England and Europe who provided him with information about invasions or assassination plots. He recruited likely young men and 'turned' others. He encouraged Elizabeth to make war against the Catholic Irish rebels, with extreme brutality, and oversaw the execution of Mary Queen of Scots.
The Queen's Agentis a story of secret agents, cryptic codes and ingenious plots, set in a turbulent period of England's history. It is also the story of a man devoted to his queen, sacrificing his every waking hour to save the threatened English state.
About the Author
John Cooper studied and taught History at Oxford before moving to the University of York. He co-edited the catalog of the "Henry VIII: Dressed to Kill" exhibition at the Tower of London. John often lectures on the Tudor Period and is a regular contributor to the "Times Literary Supplement". He lives in North Yorkshire with his wife, the author Suzanne Fagence Cooper.