Keys to the Demon Prison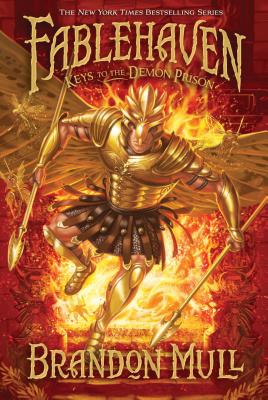 Keys to the Demon Prison
Shadow Mountain, Hardcover, 9781606412381, 593pp.
Publication Date: March 23, 2010
* Individual store prices may vary.
Buy at Local Store
Enter your zip code below to purchase from an indie close to you.
or
Buy Here
Description
Hours of crisis oftencall for sacrifice.

After many centuries of plotting, theSphinx leader of the Society of theEvening Star is after the final artifactsneeded to open the great demon prison, Zzyzx. If the legendary prison is opened, atide of evil is certain to usurp control of theworld.

In an effort to intercept the final artifacts, Kendra, Seth and the Knights of theDawn race to strange and exotic preservesacross the globe. The stakes have neverbeen higher. The risks have never beenmore deadly.

In this explosive series finale, allegianceswill be confirmed and secrets revealedas the forces of light and darknesscollide in a desperate, climactic battle tocontrol the keys to the demon prison.
About the Author
Brandon Mull has worked as acomedian, a filing clerk, a patio installer, a movie promoter, a copywriter, andbriefly as a chicken stacker. For a coupleof years, he lived in the Atacama Desertof Northern Chile, where he learnedSpanish and juggling. He currently livesin Utah in a happy little valley near themouth of a canyon with his four childrenand dog named Buffy. Brandon is the #1New York Times best-selling author of theFablehaven, Beyonders, and Five Kingdoms series. Visit Brandon at BrandonMull.com. "