The Miracle of Freedom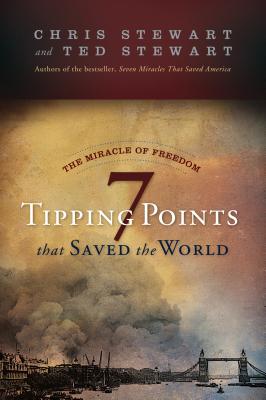 The Miracle of Freedom
Seven Tipping Points That Saved the World
Shadow Mountain, Hardcover, 9781606419519, 296pp.
Publication Date: June 3, 2011
* Individual store prices may vary.
Buy at Local Store
Enter your zip code below to purchase from an indie close to you.
or
Not Currently Available for Direct Purchase
Description
Most people would be surprised to learn that fewer than 12 of the 193 countries in the world today have a democratic government that has survived for more than fifty years. In this remarkable bestselling book, now in paperback, authors Chris Stewart and Ted Stewart examine seven miracles that changed the course of the world and paved the way for the freedoms of democratic government. The authors take actual historical events and skillfully weave in story vignettes to fully flesh out compelling details. They make the case that history would have been dramatically altered if any of these events turned out differently and affirm, as our Founding Fathers did, that a providential hand was at play in securing our freedom.
The book explores seven pivotal people in world events which helped form our democracy, including:
A handful of Greek soldiers and their naval commanders in a life-or-death confrontation with the Persians in 480 BC.
A small band of Frankish soldiers who stood against the conquering armies of Islam more than 1,300 years ago.
The people of Great Britain who refused to surrender to the overwhelming power of Hitler's Third Reich.
About the Author
CHRIS STEWART is a former USAF pilot once assigned to fly the SR-71 Blackbird and B-1 bomber. He is the author of three other acclaimed thrillers, "Shattered Bone, The Kill Box," and "The Third Consequence," He lives in Farmington, Utah.
Ted Stewart was appointed as a Utah Federal District Court
Judge in 1999. He formerly served as chief of staff to Governor
Michael O. Leavitt, as executive director of the Utah State
Department of Natural Resources, as a member and chairman
of the Utah Public Service Commission, and as chief of staff to
Utah Congressman Jim Hansen.