Grant Morrison's 18 Days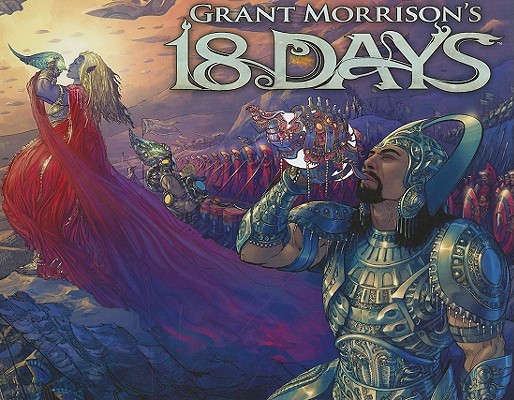 Grant Morrison's 18 Days
Dynamite Entertainment, Hardcover, 9781606901748, 143pp.
Publication Date: November 30, 2010
* Individual store prices may vary.
Buy Now
or
Shop Local
Enter your zip code below to purchase from an indie close to you.
Description
From superstar creator Grant Morrison ("All-Star Superman," "Batman & Robin," " The Invisibles"), comes "18 Days," the story of three generations of super-warriors, meeting for the final battle of their age. "18 Days" is a re-imagining of the great eastern myth, Mahabharata, and follows the course of the climactic war that concludes the age of the gods and begins the age of man. It is the prototype for every war ever fought. The scale is epic, wherein the biggest armies ever conceived face one another across the ultimate battlefield to decide the fate of the future. This hardcover illustrated script book from Dynamite Entertainment and Liquid Comics offers readers a first glimpse into the mythic animated series being developed by Morrison. The book reveals the inner workings of the acclaimed writer's process and features the original animation scripts, story bibles, character descriptions, and commentaries. Grant's groundbreaking story is matched perfectly with original illustrations created by acclaimed artist, Mukesh Singh ("Devi," "Gamekeeper," "Shadow Hunter").
About the Author
Grant Morrison has authored too many bestselling graphic novels to count. Batman: Arkham Asylum, Doom Patrol, Animal Farm, Flex Mentallo and the Invisibles are just a few of the books with which Morrison has established himself as one of the modern masters of the medium.