Rip, M. D.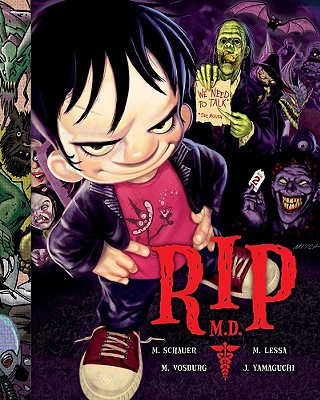 Rip, M. D.
Fantagraphics Books, Paperback, 9781606993699, 88pp.
Publication Date: October 18, 2010
* Individual store prices may vary.
Not Currently Available for Direct Purchase
or
Shop Local
Enter your zip code below to purchase from an indie close to you.
Description
RIP, M.D. is the debut graphic novel from The Angry Beavers creator Mitch Schauer, a creepy, fun-filled all-ages adventure introducing Ripley Plimpt, an eleven-year-old boy whose ordinary life is turned upside-down when he discovers that monsters are not only real, but are also in desperate need of his help to overcome their very real problems. One foggy night, while searching for monsters in the cemetery behind his house, Ripley finds and rescues the tiniest of bats impaled on a thorn bush. What Ripley doesn t realize is that he's just saved the life, or un-life, of one of the world's most dangerous night creatures a vampire Word spreads among all monsters of Rip's heroic gallantry and kindness. Before long, legendary and mythical monsters from around the world are showing up on his doorstep proclaiming Rip as RIP, M.D.Monster Doctor Writing and illustrating the graphic novel, Emmy-Award winning and long time producer, writer and designer Schauer has teamed with comic book veteran Mike Vosburg who's bringing his innovative, illustrative style to the artwork's inking. Michael Lessa and Justin Yamaguchi are creating a whole new look forRIP M.D. with their beautiful color and special effects expertise. RIP, M.D. is the first collaboration between the independent animation studio Lincoln Butterfield, who's producing the graphic novel, and Fantagraphics Books, who's publishing it.
About the Author
Mitch Schauer (pronounced Shower) has been an animation artist since 1990, when he produced the actor-comedian Howie Mandel s Bobby s World for Fox, and created his own highly successful animated series The Angry Beavers for Nickelodeon in 1997. In 2007 he co-created The Sam Plenty Cavalcade of Action Show Plus Singing!, a live-action web series for the Jim Henson Company.

Mike Vosburg is an illustrator, storyboard- animation- and comics artist who has worked for Kitchen Sink, DC, and Marvel. The Emmy-winner has devoted his time more recently to TV and film, working for such directors as John Frankenheimer and Robert Zemeckis, and on theatrical projects such as David Mamet s The Water Engine. He and his wife Anna live in Tujunga, California.