Krazy & Ignatz 1922-1924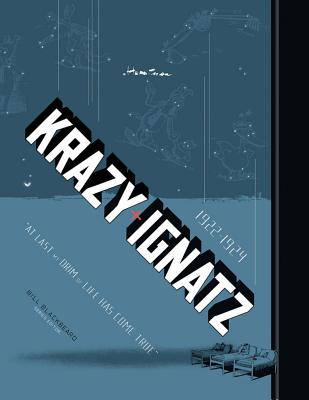 Krazy & Ignatz 1922-1924
At Last My Drim of Love Has Come True
Fantagraphics Books, Paperback, 9781606994771, 252pp.
Publication Date: April 2012
* Individual store prices may vary.
Shop Local
Enter your zip code below to find indies closest to you.
Description
Krazy Kat, with its eternally beguiling love triangle of kat/dog/mouse, its fantastically inventive language, and its haunting, minimalist desert decor, has consistently been rated the best comic strip ever created, and Fantagraphics award-winning series one of the best classic comic-strip reprint series ever published. With our 13th volume, Krazy & Ignatz 1922-1924, the decades-in-the-making project of publishing every single Krazy Kat Sunday created by Herriman comes to a close. (Next: The dailies ) While theKrazy Kat Sundays were created and published in black and white until 1935 (and therefore the majority of strips in this book are black and white), Herriman's publisher did briefly experiment with running the strip in color in 1924, and all 10 of these rare full-color strips are presented here. The book also includes more rare photographs of Herriman, a DeBaffling section explaining period references and in-jokes, and the usual surprise goodies each of these volumes springs on their readers. And for the 13th and last time, the covers will be by Chris Ware.
About the Author
George Herriman (1880-1944), the creator of Krazy Kat, was born in New Orleans and lived most of his life in Los Angeles, California. He is considered by many to be the greatest strip cartoonist of all time.

Bill Blackbeard, the founder-director of the San Francisco Cartoon Art Museum, is the world's foremost authority on early 20th Century American comic strips. As a freelance writer, Blackbeard wrote, edited or contributed to more than 200 books on cartoons and comic strips, including The Smithsonian Collection of Newspaper Comics, 100 Years of Comic Strips, and the Krazy & Ignatz series.

Jeet Heer, a former columnist for the "National Post" (Canada), has been published in "Slate", the "Boston Globe", the "Guardian", the "Comics Journal", and many other venues. He is also the coeditor (with Kent Worcester) of "Arguing Comics: Literary Masters on a Popular Medium" and "A Comics Studies Reader", both published by University Press of Mississippi.