Jack Jackson's American History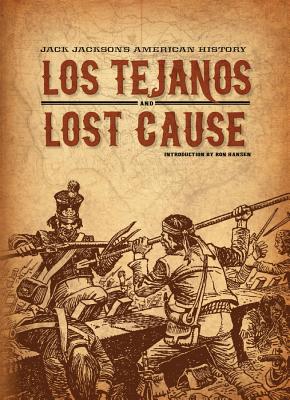 Jack Jackson's American History
Los Tejanos and Lost Cause
Fantagraphics Books, Hardcover, 9781606995044, 313pp.
Publication Date: January 2013
* Individual store prices may vary.
Shop Local
Enter your zip code below to find indies closest to you.
Description
Jack Jackson loved American history and creating comics. He combined these into a single vocation and created a legacy of historical graphic novels that has never been equaled.
Jackson is credited with creating what many consider the first underground comic, God Nose, in 1964. He co-founded Rip-Off Press in 1969, and made some of the most scathing satirical comics about contemporary America ever seen. But, Jackson was a Texan, and in the 1970s he returned to his roots and began writing and drawing short historical comics about Texas history. He then went on to produce six graphic novels chronicling 19th century Western history focusing on his beloved Texas and the Plains Indians. Fantagraphics, which published Los Tejanos originally in 1981, is proud to bring his graphic histories back into print in a series of three volumes, each reprinting two of his long narratives. The first volume features Los Tejanos, which Fantagraphics published as a solo book in 1981, and Lost Cause (1998) chronicling Texas history before and after the Civil War.
Los Tejanos is the story of the Texas-Mexican conflict between 1835 and 1875 as seen through the eyes of tejano (literally Texan of Mexican, as distinct from anglo, heritage) Juan Seguin. It is through Seguin, a pivotal and tragic figure, that Jackson humanizes Texas fight for independence and provides a human scale for this vast and complex story.
Lost Cause documents the violent reaction to Reconstruction by Texans. As Jackson wrote, Texas reaped a bitter harvest from the War Between the States. Part of this dark legacy was the great unrest that plagued the beaten but unbowed populace. The tensions caused by Reconstruction are told through the Taylor-Sutton feud, which raged across South Texas, embracing two generations and causing untold grief, and the gunslinger John Wesley Hardin, who swept across Texas killing Carpetbaggers, Federal soldiers, and Indians.
Jackson's work is as known for its rigorous research he became as good an historian as he was a cartoonist as well as its chiseled, raw-boned visual approach, reproducing the time and place with an uncanny verisimilitude.
This edition includes an essay by and interview with Jackson about the controversy Lost Cause generated, and an introduction by the novelist Ron Hansen.
About the Author
Jack Jackson, a.k.a. Jaxon, is considered by many to be the Jack Jackson, a.k.a. Jaxon, is considered by many to be the first underground comix artist. He was born in 1941 and diedfirst underground comix artist. He was born in 1941 and died in 2006 in his home state of Texas. in 2006 in his home state of Texas.

Ron Hansen is the bestselling author of the novel Atticus (a finalist for the National Book Award), Hitler's Niece, Mariette in Ecstasy, Desperadoes, and Isn't It Romantic?, as well as a collection of short stories, a collection of essays, and a book for children. The Assassination of Jesse James by the Coward Robert Ford was a finalist for the PEN/Faulkner Award. Ron Hansen lives in northern California, where he teaches at Santa Clara University.