50 Girls 50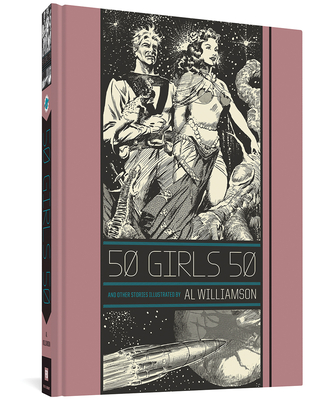 50 Girls 50
And Other Stories
Fantagraphics Books, Hardcover, 9781606995778, 247pp.
Publication Date: April 6, 2013
* Individual store prices may vary.
Buy Now
or
Shop Local
Enter your zip code below to purchase from an indie close to you.
Description
Barely old enough to drink when he joined the EC Comics stable, Al Williamson may have been the new kid on the block, but a lifetime of studying such classic adventure cartoonists as Alex Raymond (Flash Gordon) and Hal Foster (Prince Valiant) had made him a kid to reckon with as he proved again and again in the stories he created for EC's legendary New Trend comics, in particular Weird Science and Weird Fantasy. As a result of Williamson's focus, it's possible to compile all of Williamson's New Trend EC work into one book which Fantagraphics is finally doing here. Sci-fi aficionados should note that although most of the stories were written by Al Feldstein, 50 Girls 50 features three of EC's legendary Ray Bradbury adaptations, including I, Rocket and A Sound of Thunder and a unique curiosity, a strip adapted from a short story submitted by a teenage Harlan Ellison. Williamson ran with a gang of like-minded young Turks dubbed the Fleagle Gang, who would help one another out on assignments. Thus this book includes three stories upon which Williamson was joined by the legendary Frank Frazetta, and one story ( Food for Thought ) where Roy Krenkel provided his exquisite alien landscapes, to make it one of the most gorgeous EC stories ever printed. As a supplementary bonus, 50 Girls 50 includes three stories drawn by Fleagles sans Williamson: Frazetta's Shock SuspenStories short Squeeze Play; Krenkel's meticulous Time to Leave; and Angelo Torres's An Eye for an Eye, an EC story that famously fell prey to censorship and was not released until the 1970s. As with other Fantagraphics EC titles, 50 Girls 50 will also include extensive story notes by EC experts.
About the Author
Al Williamson (b. 1931, d, 2010) was a comics artist best known for his work on EC's Weird Science and Weird Fantasy comics titles (and, later, Creepy and Eerie, comics magazines that featured EC alumni). He also adaptedStar Wars into comics, and worked on the newspaper strips Flash Gordon and Secret Agent X-9, both creations of Alex Raymond. He also inked various Marvel superhero comics, and was inducted into the Will Eisner Hall of Fame in 2000.

Frank Frazetta has worked for DC Comics, painted covers for Tarzan of the Apes, Battlefield Earth, Famous Funnies, and won the Hugo, World Fantasy, and Spectrum Grandmaster awards. Still one of the most collected fantasy artists in the world, Frank lives in Pennsylvania.