Angel of Death Row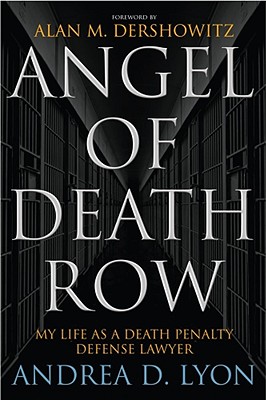 Angel of Death Row
My Life as a Death Penalty Defense Lawyer
Kaplan Publishing, Hardcover, 9781607144342, 288pp.
Publication Date: January 5, 2010
* Individual store prices may vary.
Buy at Local Store
Enter your zip code below to purchase from an indie close to you.
or
Not Currently Available for Direct Purchase
Description
Nineteen times, death penalty defense lawyer Andrea D. Lyon has represented a client found guilty of capital murder. Nineteen times, she has argued for that individual's life to be spared. Nineteen times, she has succeeded.
Dubbed the "Angel of Death Row" by the Chicago Tribune, Lyon was the first woman to serve as lead attorney in a death penalty case. Throughout her career, she has defended those accused of heinous acts and argued that, no matter their guilt or innocence, they deserved a chance at redemption.
Now, for the first time, Lyon shares her story, from her early work as a Legal Aid attorney to her founding of the Center for Justice in Capital Cases. Full of courtroom drama, tragedy, and redemption, Angel of Death Row is a remarkable inside look at what drives Lyon to defend those who seem indefensible—and to win.
There was Annette who was suspected of murdering her own daughter. There was Patrick, the convicted murderer who thirsted for knowledge and shared his love of books with Lyon when she visited him in jail. There was Lonnie, whose mental illness made him nearly impossible to save until the daughter who remembered his better self spoke on his behalf. There was Deirdre, who shared Lyon's cautious optimism that her wrongful conviction would finally be overturned, allowing her to see her grandchildren born while she was in prison. And there was Madison Hobley, the man whose name made international headlines when he was wrongfully charged with the murder of his family and sentenced to death.
These clients trusted Lyon with their stories—and their lives. Driven by an overwhelming sense of justice, fairness, and morality, she fought for them in the courtroom and in the raucous streets, staying by their sides as they struggled through real tragedy and triumphed in startling ways. Angel of Death Row is the compelling memoir of Lyon's unusual journey and groundbreaking career.
About the Author
Andrea D. Lyon is Director of the Center for Justice in Capital Cases and Clinical Professor of Law, Associate Dean for Clinical Programs, at DePaul University College of Law. She began her career at the Cook County Public Defenders' Office, working her way up to Chief of the Homicide Task Force, a 22-lawyer unit that represents people accused of homicide.
Lyon has tried more than 130 homicide cases, both within the public defender's office and elsewhere. She has defended more than 30 potential capital cases at the trial level. Of these, she has taken 19 through the penalty phase, and won them all. She lives in Chicago, Illinois.