Pieces of Another World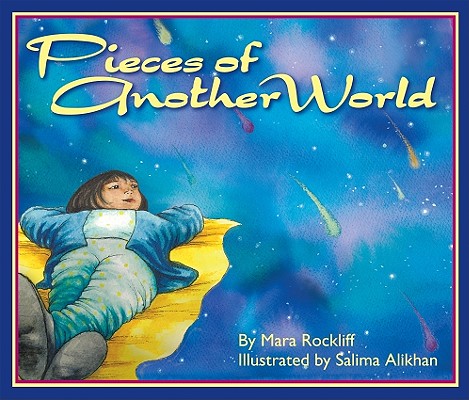 Pieces of Another World
Arbordale Publishing, Paperback, 9781607181149, 32pp.
Publication Date: September 20, 2005
* Individual store prices may vary.
Buy at Local Store
Enter your zip code below to purchase from an indie close to you.
or
Not Currently Available for Direct Purchase
Description
This touching story of a father and child's nighttime excursion to watch a meteor shower is told through the eyes of a child in awe of the night world. Rockliff's vivid descriptions make readers feel as though they too are watching the tiny bits of other, distant worlds blazing into our own.The -For Creative Minds- education section includes teaching trivia about meteors, meteor showers, comets, and asteroids as well as a -Meteor Math- game, a -Five Steps to a Fantastic Meteor Watching Party- checklist, and a recipe for comet cookies.
About the Author
Salima Alikhan (Pieces of Another World) decided to pursue a career in children's book illustration when she realized her lifelong passion for art would never leave her alone. Salima studied at the Corcoran Institute of Art in Washington, DC. Her favorite medium is watercolor. She begins most of her illustrations by drawing on cold-pressed watercolor paper, going over the drawing with ink, painting the picture, and then adding the final detail with watercolor pencil. To create the effect of snow, gravel, sand, stars, or coral, she often sprinkles salt on top of watercolor while it's still wet. When the paint dries, she shakes the salt off. The mineral compositions of different types of salts create different effects. Table salt leaves smaller spots, which are good for snow, gravel and stars; and sea salt or canning salt leave large circles, which are better for coral or sand. She has the good fortune of being an art teacher in a Montessori school, where she has learned lots about both art and children. She currently resides, teaches, and paints in Austin, TX. This is her first children's book. Visit Salima's website: http: //www.salimaalikhan.net/