Southern Italian Desserts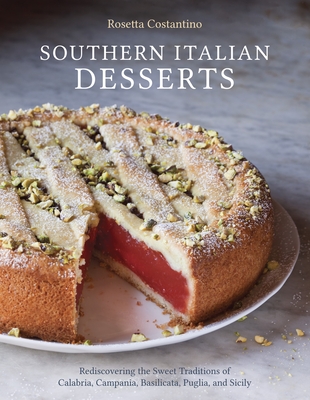 Southern Italian Desserts
Rediscovering the Sweet Traditions of Calabria, Campania, Basilicata, Puglia, and Sicily
Ten Speed Press, Hardcover, 9781607744023, 211pp.
Publication Date: October 8, 2013
* Individual store prices may vary.
Buy at Local Store
Enter your zip code below to purchase from an indie close to you.
or
Buy Here
Description
An authentic guide to the festive, mouthwatering sweets of Southern Italy, including regional specialties that are virtually unknown in this country as well as variations on more popular desserts such as cannoli, biscotti, and gelato.
In "Southern Italian Desserts," author of the acclaimed "My Calabria," Rosetta Costantino, collects seventy-five favorite recipes from the regions of Calabria, Campania, Basilicata, Puglia, and Sicily. These picturesque areas have a rich history of beautiful desserts, many of them tied to holidays and festivals. For example, "Zeppole di San Giuseppe" are doughnut-like pastries topped with cream and cherries, traditionally made in Campania for the celebration of Father's Day. And the Sicilian chilled watermelon pudding "Gelo di Mellone" is a refreshing dish served in summer for the festival of Palermo's patron saint, Rosalia. Other desserts such as persimmon gelato, chocolate-dipped figs stuffed with almonds and candied orange peel, and chocolate-hazelnut cake rolls celebrate Southern Italy's local bounty and traditional foods. With recipes for more familiar Italian desserts such as cannoli and gelato, as well as deliciously obscure sweets such as rich cassatas, almond-flecked cookies, and flaky cream-filled sfogliatelle pastries, "Southern Italian Desserts" features a treat for every occasion.
In addition to explaining the regional history, symbolism, and lore behind the desserts, Costantino teaches you how to stock your dessert pantry and provides all of the foundational recipes you need to embark on a sweet tour of the Italian south from your kitchen. This delightful confection of a cookbook will expand your dessert repertoire and leave you dreaming of Italy. "Buon appetito
About the Author
Born and raised in Verbicaro, Calabria, ROSETTA COSTANTINOmoved to Oakland, California, with her parents at the age of fourteen. She earned a chemical engineering degree at the University of California, Berkeley, and spent twenty years working in Silicon Valley. Now, often assisted by her mother, Maria, she shares the techniques and tastes of the traditional Calabrian kitchen in her popular cooking classes. She is the author (with Janet Fletcher) of "My Calabria: Rustic Family Cooking from Italy s Undiscovered South," which was nominated for an IACP award in 2011. Rosetta lives in Oakland with her husband and two children. Learn more at cookingwithrosetta.com

JENNIE SCHACHT is a culinary writer and consultant based in Oakland, California. She is the author of"iscream SANDWICH!" and "Farmers Market Desserts," and co-author of "The Wine Lover s Dessert Cookbook," "Without Reservations," "Sweet & Skinny," and several other works. Her culinary and health care consulting company, Schacht & Associates, has raised over $135 million for public and not-for-profit organizations. Learn more at jennieschacht.com"
Praise For Southern Italian Desserts…
"Rosetta has given us a sweet and soulful taste of the land and culture of Southern Italy-flavors and fragrances practically leap off the page. From the simplest three-ingredient walnut cookies (that you will want to jump up and make immediately, as I did) to more elaborate celebration desserts-all are made doable with well-written recipes and beautiful photos. Fig syrup and dolci di noci now have a permanent place in my repertoire."
—Alice Medrich, author of Bittersweet and Sinfully Easy Delicious Desserts
 
"I've been chasing down Southern Italian dessert recipes for thirty years, and my dear friend Rosetta just saved me another decade.  She is truly one of the best Italian cooks I know!"
—Michael Chiarello, chef and owner of Bottega and Coqueta
 
"Reading this book, I pictured Rosetta moving between bakeries and homes throughout Southern Italy, her impeccable sweet tooth and culinary knowledge  guiding her to the special sweets of each village. Brava to Rosetta for creating a book that's original, tantalizing, and embodies the culture and spirit of her region."  
—Carol Field, author of The Italian Baker