The Essential Good Food Guide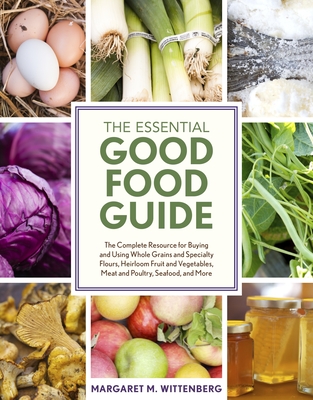 The Essential Good Food Guide
The Complete Resource for Buying and Using Whole Grains and Specialty Flours, Heirloom Fruit and Vegetables, Meat and
Ten Speed Press, Paperback, 9781607744344, 288pp.
Publication Date: July 9, 2013
* Individual store prices may vary.
Buy at Local Store
Enter your zip code below to purchase from an indie close to you.
or
Buy Here
Description
The definitive guide to buying, storing, and enjoying whole foods, in full color for the first time and revised and updated throughout.
Make smart choices at the store and at the stove.
An inspiring and indispensable one-stop resource, " The Essential Good Food Guide" is your key to understanding how to buy, store, and enjoy whole foods.
Margaret M. Wittenberg shares her insider's knowledge of products available at national retailers and natural foods markets, providing at-a-glance buying guides. Her ingredient profiles include detailed preparation advice, such as dried bean cooking times, cooking ratios of whole grains to water, culinary oil smoke points, and much more. She also clarifies confusing food labels, misleading marketing claims, and common misperceptions about everyday items, allowing you to maximize the benefits of whole foods cooking.
With full-color photography, this new edition of "The Essential Good Food Guide" is fully revised with the most up-to-date advice on organics, heirloom grains and legumes, gluten-free cooking options, and the new varieties of fruits and vegetables popping up at farmers' markets across the country to help you make the most of your time in the grocery aisle and the kitchen.
About the Author
MARGARET M. WITTENBERG is Global VP of Whole Foods, where she has worked since 1981. In addition to her participation on numerous government environmental advisory boards, Margaret was a member of the USDA National Organic Standards Board and currently serves on Marine Stewardship Council Board of Trustees and as a board member of the Whole Planet Foundation. Wittenberg lives in Fredericksburg, Texas.


Praise For The Essential Good Food Guide…
"Margaret Wittenberg has compiled an astonishingly thorough and comprehensive guide to help you be a wise consumer of the great variety of food now available—from grains, beans, and nuts to produce, oils, sweeteners, dairy products, meat, and fish. She gives very practical tips for identifying, buying, storing, and preparing the foods that  are both most satisfying and most nutritious. I will keep a copy of this book in my kitchen."
—Andrew Weil, MD, founder and director of the Arizona Center for Integrative Medicine and author of True Food 

"What I love about Margaret Wittenberg's The Essential Good Food Guide 
is that it's a great read, as well as a great resource. Her in-depth experience 
in the world of natural foods gives her the credibility to share her knowledge of every imaginable ingredient, including how it  is processed and its nutritional values. This book is an outstanding tool  for any home cook or chef with an interest in making healthy food." 
—Nell Newman, cofounder and president of Newman's Own Organics

"From amaranth to olive oil, quinoa to wakame and wild rice (and everything in between),  The Essential Good Food Guide is the Larousse Gastronomique of natural foods—ingredients, insight, and inspiration in one definitive volume."
—Heidi Swanson, author of Super Natural Every Day

"At last we have Margaret Wittenberg to answer our most basic questions about any food we see: 'What is it?' and 'What do I do with it?' The Essential Good Food Guide is an extraordinarily comprehensive guide to foods, ingredients, and their handling. Sophisticated cooks as well as beginners 
will be grateful to have this indispensable book  at hand."
—Marion Nestle, professor of nutrition, food studies, and public health at New York University, and author of What to Eat

"Margaret Wittenberg has been at the leading edge of the healthy eating movement in this country since it hovered at the fringe of public awareness. I can't think of anyone I would trust more to write this book — the sustainable seafood section alone is worth the price. The Essential Good Food Guide will likely become a cornerstone of every good cook's library."
—Mollie Katzen, author of The New Moosewood Cookbook