The Mac + Cheese Cookbook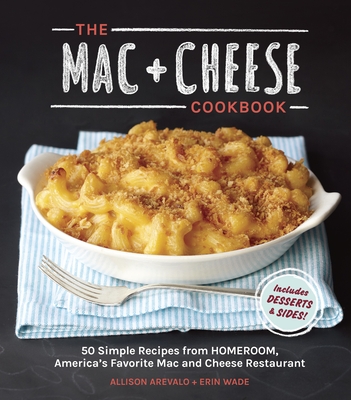 The Mac + Cheese Cookbook
50 Simple Recipes from Homeroom, America's Favorite Mac and Cheese Restaurant
Ten Speed Press, Hardcover, 9781607744665, 117pp.
Publication Date: August 20, 2013
* Individual store prices may vary.
Buy Now
or
Shop Local
Enter your zip code below to purchase from an indie close to you.
Description
A fun and playful cookbook featuring retro, decadent, and kid-friendly mac-and-cheese recipes from the popular Oakland restaurant Homeroom.
Think Outside the Box
Macaroni and cheese is one of America's favorite comfort foods, beloved by kids and adults alike. But there's no need to rely on prefab mixes all you need is a handful of kitchen staples, some tasty cheese, and a little insider advice courtesy of Homeroom restaurant. This perennially popular Oakland, California, eatery with its entire menu devoted to mac and cheese now shares its secrets for the best-ever mac recipes.
These inventive dishes offer something for everyone: nostalgic homestyle recipes like Tuna Mac, international varieties like Sriracha Mac, decadent delights like Truffle Mac, and even the logic-defying Vegan Mac. You ll also find recipes for quick veggie sides like Brussels Sprouts with Bacon and old-school desserts like frozen Peanut Butter Pie. With a basics section on perfecting mac sauce, choosing the best noodles, and customizing add-ins and toppings, plus an emphasis on quality ingredients and simple techniques, this fun, playful cookbook shows cheese-loving readers how to take this comfort-food staple to creative
new heights.
About the Author




Ethel Brennan is a writer and photography stylist. When she was a child, she and her family lived in Provence, where her parents owned a goat cheese farm. Although her family returned to California while she was still young, most of her childhood summers were spent traveling in France from Paris to the rustic countryside of Provence where her parents kept the farmhouse. She is now based in San Francisco and travels frequently to France with her twin boys and French husband. She is the author of "Herbes de Provence", "Baby Gifts" and co-author of "Citrus", "Sun Dried Tomatoes", "Goat Cheese", "A Children's Kitchen Garden" and most recently "At the Farmers' Market with Kids". Sara Remington is an award-winning food and travel photographer based in San Francisco. She has photographed over 30 cookbooks, including "The Blue Chair Jam Cookbook" by Rachel Saunders, "My Calabria" by Rosetta Costantino, "The Mozza Cookbook" by Nancy Silverton, "The Wild Table" by Connie Green, "Plum Gorgeous" by Romney Steele, and "Vino Argentino" by Laura Catena. She was nominated for a James Beard Award for her photography in "The Blue Chair Jam Cookbook" and continues to travel the globe shooting for publishing companies, editorials, and advertising. Her work is inspired by the tactile and visual experiences of her childhood road trips in the United States and France.

Praise For The Mac + Cheese Cookbook…
''Anyone who paves the way for me to have mac + cheese for breakfast understands my heart's desires. Allison and Erin really know their way around a creamy sauce and amazing cheese combinations. These recipes are fun and majorly comforting—I'm so excited to add this book to my cookbook family.''
-Joy Wilson, author of Joy the Baker Cookbook
 
''I remember when Allison and Erin first came to me to ask for advice on opening their own restaurant. I knew they had what it takes: intelligence, natural grace, and sincere hospitality. The beauty of their food is the unexpected mac and cheese flavors that pop every time. They provide you with plenty of comfort at Homeroom, and now, their cookbook provides you with the ultimate comfort food!''"
-Tanya Holland, chef/owner, Brown Sugar Kitchen