Reporting at Wit's End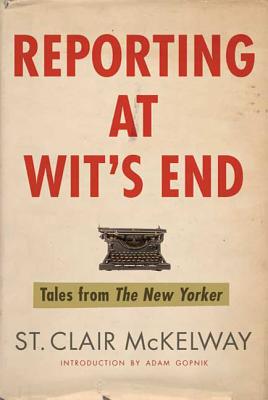 Reporting at Wit's End
Tales from the New Yorker
Bloomsbury USA, Paperback, 9781608190348, 640pp.
Publication Date: February 16, 2010
* Individual store prices may vary.
Buy at Local Store
Enter your zip code below to purchase from an indie close to you.
or
Buy Here
Description
The best of St. Clair McKelway, a longtime "New Yorker "writer, whose astonishing career and work have been overlooked for too long.
Named for his great-uncle, a prominent newspaperman, St. Clair McKelway was born with journalism in his blood. And in thirty-six years at the "New Yorker," he made "fact-writing" his career. His prolific output for the magazine was defined by its incomparable wit and a love of New York's rough edges. He had a deep affection for the city's "rascals": the junkmen, con men, counterfeiters, priests, beat cops, and fire marshals who colored life in old New York. And he wrote with levity and insight about his own life as well, a life marked by a strict Presbyterian childhood, a limited formal education, five marriages and divorces, and sometimes debilitating mental illness.
Like Joseph Mitchell and A. J. Liebling, McKelway combined the unflagging curiosity of a great reporter with the narrative flair of a master storyteller, and he helped establish the "New Yorker"'s unique brand of journalism in its most storied years. William Shawn, who began as McKelway's assistant and became the magazine's revered editor, described McKelway as a writer with the "lightest of light touches," his striking style "too odd to be imitated."
"Reporting at Wit's End "collects McKelway's most memorable work from the 1930s through the 1960s, creating a portrait of a long-forgotten New York and of one of its consummate chroniclers.
Praise For Reporting at Wit's End…
"Nobody tells a story better than [McKelway] does."—P.G. Wodehouse
"McKelway was a born writer and an inspired writer."—William Shawn
"St. Clair McKelway was a fine practitioner of literary journalism. He had a knack for digging up eccentric subjects and polishing them into characters that shine in memory. I was a young McKelway fan, and it's a great pleasure now to see him back in print."—Gay Talese
"A rogue's gallery of shady, quirky, beguiling figures populates this scintillating collection of essays by one of the New Yorker's seldom-sung masters. His limpid style and wry humor make these pieces as fresh and engaging as the day they appeared."—Publishers Weekly
"The best essays and articles from a longtime New Yorker writer too long relegated to the shadows cast by A. J. Liebling and Joseph Mitchell, distinguished by vintage portraits of a long-gone NYC."—Barnes and Noble Review
"A lovely, funny, sad collection of [McKelway's] work.  Throughout 'Reporting at Wit's End,' his voice is slyly funny, subtly learned, and as slickly styled as his dark blond hair.  Locating sense in nonsense may have been McKelway's greatest gift: out of oddness, he crafted a most unusual art."—Columbia Journalism Review
"
Reporting at Wit's End...
was my favorite book in 2010... The eighteen stories in this collection... are all pieces that transcend time. And, if there is any justice, their re-publication should earn McKelway, at long last, a place alongside Joseph Mitchell, Gay Talese, Joan Didion and Tom Wolfe as one of the masters of literary nonfiction." 
—David Grann, Salon
 "This generous collection of his work for the magazine spanning four decades should, by any rights, restore this supremely gifted, prolific, droll and idiosyncratic writer to his deserved place in the pantheon. 
Reporting at Wit's End
represents the range of McKelway's talents and preoccupations from the 1930s to the 1960s." 
—San Francisco Chronicle
"Reporting at Wit's End…assembles 18 of McKelway's longer pieces from the 1930s to the 1960s, and every one of them is a treasure...  [A] tremendous collection, which, if there's any justice, will begin the process of winning him back the fame he long ago earned."  —Craig Seligman, New York Times Book Review
"When he was on his game, McKelway might have been the best nonfiction writer the [New Yorker] had -- this at a time when Liebling, Mitchell and E.J. Kahn Jr. were also producing signature work.  But if McKelway remains perhaps the greatest magazine writer that no one knows about, the publication of a new collection, Reporting at Wit's End, brings with it the hope that his long-forgotten byline might be brought back to light."  —Los Angeles Times
"McKelway's writing is deliciously detailed, subtle and wry, full of keen observations and connections. Readers who are fans of the New Yorker or great storytelling in general will appreciate this book." 
—Booklist
"A generous new anthology…with eighteen of [McKelway's] articles from the magazine and an introduction by Adam Gopnik, puts his work within reach once again, and high time."  —New Yorker