The Most Memorable Games in Patriots History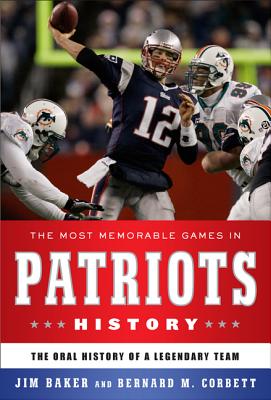 The Most Memorable Games in Patriots History
The Oral History of a Legendary Team
Bloomsbury USA, Hardcover, 9781608190676, 368pp.
Publication Date: August 7, 2012
* Individual store prices may vary.
Buy at Local Store
Enter your zip code below to purchase from an indie close to you.
or
Not Currently Available for Direct Purchase
Description
Tom Brady marching the team upfield in the final minute of the 2001 Super Bowl. Troy Brown playing offense, defense, and special teams. The Tuck Rule. A rogue groundskeeper plowing a path for kicker John Smith at the end of a scoreless, snowy game. Gino Cappelletti setting the AFL record for points in a game against the Houston Oilers. These are the moments Patriots fans love to remember, now retold by the players who lived them.
Once a top team in the AFL in the 1960s, the Patriots have returned to glory as one of the NFL's best franchises during the past decade, and enthusiasm for them has never been higher. Sportswriters Jim Baker and Bernard M. Corbett relive the evolution of the team, getting war stories from players like Cappelletti, John Hannah, and Steve Grogan. Moving through the team's biggest games, they put a fresh spin on the stories all Pats fans love, with detail and color from the players who were there, on the field, making history.
The Most Memorable Games in Patriots History is a perfect gift for the serious fan-not just a collectible, but the kind of book you can hunker down and enjoy.
About the Author
Bernard M. Corbett is a sportswriter, broadcaster, and researcher based in Boston. He has extensively researched and written about topics such as the history of the Boston Garden and the centennial of college hockey. As a sports broadcaster, he has served as the play-by-play "Voice of Boston University Hockey" for the past seventeen years. His company, Giant Sports Associates, coordinates the Terrier sports radio network.

Jim Baker is a sports columnist who covered the Buffalo Bills and the national and regional television-radio beat at The Buffalo Courier-Express for 20 years, following graduation from the State University of New York at Buffalo in 1963. He remained until the newspaper closed in 1983 and then became the Boston Herald's TV-radio columnist from 1983 until his retirement in 2004. He has written five books on sports subjects: "O.J. Simpson," 1974, Grosset & Dunlap. "The Buffalo Bills: O.J. Simpson, Rushing Champion," 1974, Prentice-Hall; "Billie Jean King," 1975, Grosset & Dunlap; "O.J. Simpson's Most Memorable Games," 1978, G.P. Putnam's Sons; and "A View From the Booth: Gil Santos and Gino Cappelletti-25 Years of Broadcasting the New England Patriots," 2008, Rounder Books.

Ronnie Corbett is an institution in comedy. His career has spanned over forty years and contains many classic moments and characters in British comedy. He remains as vibrant and as well-loved today as ever.