Freedarko Presents the Undisputed Guide to Pro Basketball History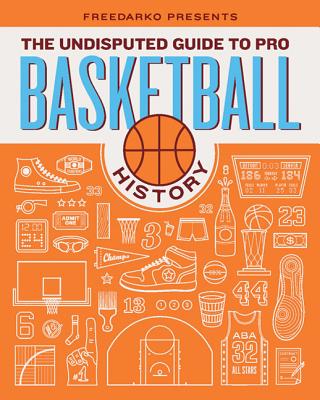 Freedarko Presents the Undisputed Guide to Pro Basketball History
Bloomsbury Publishing PLC, Hardcover, 9781608190836, 223pp.
Publication Date: October 26, 2010
* Individual store prices may vary.
Buy at Local Store
Enter your zip code below to purchase from an indie close to you.
or
Buy Here
Description
The history of basketball has always belonged to champions like the Celtics, the Lakers, and the Bulls. Yet the game's history cuts much deeper than that. The bottom line, the record books and retired jerseys, can never fully do justice to this wild, chaotic, and energetic game. In between the championships, there's the sight of Earl Monroe, spinning and cajoling his way to every corner of the court; or Allen Iverson, driving headlong into players twice his size.

The real history of the game is not its championships, which are indisputable, but the personalities of its heroes, which are, at least, "undisputed." It's in the larger-than-life pathos of Wilt, the secret ties that bind Larry Bird to the flashy ABA, and Michael Jordan when he flew a little too high. From the prehistoric teachings of Dr. James Naismith to pioneering superstars such as LeBron James and Kevin Durant, you'll never see roundball the same way again.
About the Author
FreeDarko is a collective of like-minded writers and artists (Bethlehem Shoals, Jacob Weinstein, Dr. Lawyer IndianChief, Silverbird 5000, and Brown Recluse, Esq., ) who gather to celebrate (and take down) the National Basketball Association. For their new book, they will be joined by Tom Ziller, Eric Freeman, Joey Litman, J. Gabriel Boylan, author Pasha Malla and SLAM editor Lang Whitaker. Shoals, the chief operative of FreeDarko, has written for Slate, McSweeney's, the Nation, and SLAM. He is a regular contributor at AOL's NBA Fanhouse.
Praise For Freedarko Presents the Undisputed Guide to Pro Basketball History…
Praise for The Undisputed Guide to Pro Basketball History
"Baseball has its numbers and football has its hard hits, but basketball, more than those sports, has style. And no one has done more to try to capture that than the collection of bloggers known as Freedarko."—New York Times
"To say that they've written one of the most enlightening books on the game's evolution (which they have) is to miss the point.  The book isn't intended solely to educate; it's also meant to entertain, and to that end it succeeds wildly."—Sports Illustrated
"FreeDarko isn't standing outside the mainstream of basketball discussion: It's driving it ... This is a history of basketball told straight, but smartly, with wit and detail and undeniable affection....Any NBA fan can read this: It's not for grad students and stoners and revisionists; it's for everyone ... We are now living in a FreeDarko world. Hail, hail."—New York Magazine
"This is a history of basketball written with a degree of conceptual complexity that's just about unique in the canon of the sport. But it's also an inviting, accessible narrative that doesn't have to be praised in terms of baroque sociology... It's also, and by some distance, the prettiest sports book I've ever seen... It's like a McSweeney's you don't have to pet."
—The Run of Play
"The book is an essential guide to the NBA as seen through the eyes of brilliant outsiders—writers, statisticians, and illustrators—unwilling to describe the contents of the game in the typical language of the sports section. If you are watching basketball without the guidance of FreeDarko, you are simply doing it wrong."
—The Portland Mercury
 "A highly graphic look at both well-and lesser-known moments in the pro game's past, written by the sport's most entertaining bloggers. Get infotained with illustrated awesomeness."
—Maxim