Dante's Divine Comedy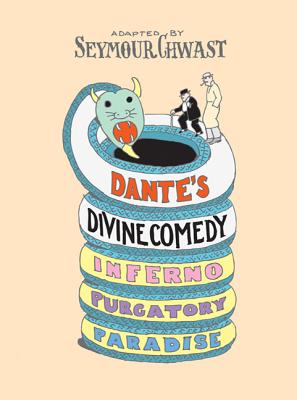 Dante's Divine Comedy
Bloomsbury Publishing PLC, Hardcover, 9781608190843, 127pp.
Publication Date: August 31, 2010
* Individual store prices may vary.
Buy at Local Store
Enter your zip code below to purchase from an indie close to you.
or
Not Currently Available for Direct Purchase
Description
The "left-handed designer," Seymour Chwast has been putting his unparalleled take and influence on the world of illustration and design for the last half century. In his version of "Dante's Divine Comedy," Chwast's first graphic novel, Dante and his guide Virgil don fedoras and wander through noir-ish realms of Hell, Purgatory, and Paradise, finding both the wicked and the wondrous on their way.
Dante Alighieri wrote his epic poem "The Divine Comedy" from 1308 to 1321 while in exile from his native Florence. In the work's three parts (Inferno, Purgatory, and Paradise), Dante chronicles his travels throughthe afterlife, cataloging a multitude of sinners and saints many of them real people to whom Dante tellingly assigned either horrible punishment or indescribable pleasure and eventually meeting both God and Lucifer face-to-face.
In his adaptation of this skewering satire, Chwast creates a visual fantasia that fascinates on every page: From the multifarious torments of the Inferno to the host of delights in Paradise, his inventive illustrations capture the delirious complexity of this classic of the Western canon.
About the Author
Seymour Chwast is well-known internationally for his graphic designs and illustrations. He has written and/or illustrated more than thirty books for children. His Houghton Mifflin collaborations with Harriet Ziefert include Traffic Jam, Moonride, and Ode to Humpty Dumpty. He lives with his wife in New York City.
Praise For Dante's Divine Comedy…
"Dante + Seymour = Heaven."—Maira Kalman, author of The Principles of Uncertainty
"Seymour's take on this timeless classic is not only charming and clever, it is so cannily rendered that it makes Dante's complex masterwork easily understood for any reader. Divine."—Chip Kidd, author of The Cheese Monkeys
"I have to say, seen through Seymour Chwast's eyes, Hell doesn't look so bad. I'm almost looking forward to floating in pools of excrement or being tossed about carelessly by furious winds. Seymour Chwast has put the comedy back into the divine in this fiendishly heavenly extravaganza."—Marian Bantjes, graphic artist
"Seymour Chwast! Oh, how I hate him! He's already the top artist! He's already the top designer! Now he's gonna be the top graphic novelist! Seymour Chwast can go to Hell!"—Craig Yoe, author of The Art of Steve Ditko
"With all due respect to Dante, this is Chwast's Divine Comedy … [Chwast] makes the Divine Comedy irresistibly comic and inspirationally transcendent."—Kirkus Reviews (starred review)
"Famed artist and graphic designer Chwast has turned his talents to the graphic novel form for the first time, and we can all be happy about it…With his signature mix of humor, artistry, and high-level design, he conveys a breathtaking amount of information in clear black and white line drawings…Chwast does a stunning job of telling Dante's story in his own brilliant style." – Publishers Weekly (starred review)