Chef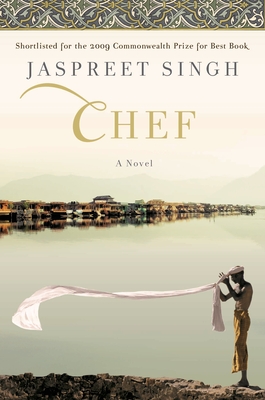 Chef
Bloomsbury Publishing PLC, Paperback, 9781608190850, 248pp.
Publication Date: April 13, 2010
* Individual store prices may vary.
Buy at Local Store
Enter your zip code below to purchase from an indie close to you.
or
Not Currently Available for Direct Purchase
Description
Kirpal Singh is riding the slow train to Kashmir. With India passing by his window, he reflects on his destination, which is also his past: a military camp to which he has not returned for fourteen years.
Kirpal, called Kip, is shy and not yet twenty when he arrives for the first time at General Kumar's camp, nestled in the shadow of the Siachen Glacier. At twenty thousand feet, the glacier makes a forbidding battlefield; its crevasses claimed the body of Kip's father. Kip becomes an apprentice under the camp's chef, Kishen, a fiery mentor who guides him toward the heady spheres of food and women.
In this place of contradictions, erratic violence, and extreme temperatures, Kip learns to prepare local dishes and delicacies from around the globe. Even as months pass, Kip, a Sikh, feels secure in his allegiance to India, firmly on the right side of this interminable conflict. Then, one muggy day, a Pakistani "terrorist" with long, flowing hair is swept up on the banks of the river and changes everything.
Mesmeric, mournful, and intensely lyrical, "Chef "is a brave and compassionate debut about hope, love, and memory set against the devastatingly beautiful, war-scarred backdrop of occupied Kashmir.
About the Author
Jaspreet Singh is a former research scientist who holds a PhD in chemical engineering from McGill University. His debut collection of short stories, Seventeen Tomatoes: Tales from Kashmir won the 2004 McAuslan First Book Prize, and his stories have appeared in The Walrus and Zoetrope. Born in Punjab and brought up in Kashmir, Singh now lives in British Columbia.
Praise For Chef…
"Serves up the memories both delicious and bitter… Singh adroitly blends lyrical accounts of Kip's past with sensual renderings of the cold climate and piquant cuisine."—Library Journal
"[Singh] writes lyrically… The rippling effects of religious and cultural prejudice infuse this whole, complex story, leaving no character in Singh's poetic, thought-provoking tale untouched."—Booklist
"A kaleidoscopic journey through one of the most beautiful yet besieged areas in the world—Jaspreet Singh brings out the full poetry and heartbreak of Kashmir."—Manil Suri, author of The Age of Shiva and The Death of Vishnu
"Chef is a haunting evocation of the emotional and physical landscapes of war-torn Kashmir. Jaspreet Singh is a very learned, gifted, and sensitive writer."—Basharat Peer, author of Curfewed Night
"Jaspreet Singh's Chef carries the scents of cardamom, ice, and sweat; is written with such a keen sense of rhythm that you can hear the book as you read it; and is placed not only between India and Pakistan but intriguingly between delicate cuisines and crude politics. The novel is transporting—an experience that is not easily laid to rest."—Mark Kurlansky, author of Cod and Salt
"Jaspreet Singh has the soul of a poet and the pen of a novelist. Chef is an intricate, subtle, and beautiful book."—P. K. Page, author of Cosmologies
"This is courageous writing that asks, and faces the impossibility of one-way answers to, questions of loyalty, love, ownership, and death."—Daphne Marlatt, author of The Given
"Chef is easily one of the best first novels I've read in the past ten years. Singh takes on life as it is, with its lust, its mindless rivalry, its brutality and its redemptive epiphanies that never quite pan out, with an attention to detail that … is magnified rather than lessened by Singh's exact and tender prose."—Alberta Views
"Chef is an accomplished debut novel that portends even greater things from Singh."—Montreal Gazette
"The forlorn beauty of Kashmir … has never been portrayed so elegantly as in this novel."—Montreal Serai
"Like the people of India, the country's food varies from region to region, with no simple consensus on how to prepare anything. But in Jaspreet Singh's outstanding debut novel, as the characters learn to understand the origins of their food, they begin to understand each other… Quintessentially Indian, Chef is a book that eschews complex prose in favor of authenticity. Touching in its deft handling of Kip's journey into maturity, Chef  helps its readers realize that true understanding comes when you recognize not only how people are alike, but also how they are different."—Bookpage
"An artful and mostly beautifully poised indictment of the shameful role of India in the political and human-rights hell that is Kashmir now… The great strength of this brave book is its technique of indirection in imparting information to the reader. Singh comes at things aslant, seemingly casually; when their importance is revealed, it comes to the unsuspecting reader with the weight and shock of an unsuspected explosion."—NeelMukherjee.com
"[A] luminous novel… Jaspreet Singh creates a swirl of sensual allusions, from the herbs and spices of Indian cooking, to the silken allure of women Kip dares not touch, to the withering heat of the subcontinent and the unearthly cold of the Kashmiri peaks. The sensuality adorns without obscuring the solemn core of the story."—Boston Globe
"Jaspreet Singh's sense of rhythm and his lyricism move the novel fluidly through time. Kirpal's journey is complex and layered like any flavorful dish. Sit back and delight in this delectable story." —Sacramento Book Review
"Unfortunately, I've already finished Chef by Jaspreet Singh…an ideal summer read for anyone who loves to eat and loves to cook, too." —Hungry for Paris
"The most mesmerizing novel I've read this spring." —James Mustich, Barnes & Noble Review
"Thought-provoking...Throughout, Singh's writing is lean and muscular, pithy and precise. Observations carry the ring of truth and linger in the mind." —PopMatters