The Plots Against the President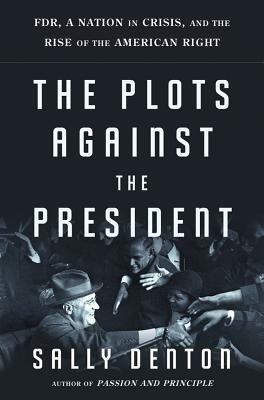 The Plots Against the President
FDR, a Nation in Crisis, and the Rise of the American Right
Bloomsbury Publishing PLC, Hardcover, 9781608190898, 288pp.
Publication Date: January 3, 2012
* Individual store prices may vary.
Buy at Local Store
Enter your zip code below to purchase from an indie close to you.
or
Buy Here
Description
In March 1933, Franklin Delano Roosevelt finally became the nation's thirty-second president. The man swept in by a landslide four months earlier now took charge of a country in the grip of panic brought on by economic catastrophe. Though no one yet knew it-not even Roosevelt-it was a radical moment in America. And with all of its unmistakable resonance with events of today, it is a cautionary tale.
The Plots Against the President follows Roosevelt as he struggled to right the teetering nation, armed with little more than indomitable optimism and the courage to try anything. His bold New Deal experiments provoked a backlash from both extremes of the political spectrum. Wall Street bankers threatened by FDR's policies made common cause with populist demagogues like Huey Long and Charles Coughlin. But just how far FDR's enemies were willing to go to thwart him has never been fully explored.
Two startling events that have been largely ignored by historians frame Sally Denton's swift, tense narrative of a year of fear: anarchist Giuseppe Zangara's assassination attempt on Roosevelt, and a plutocrats' plot to overthrow the government that would come to be known as the Wall Street Putsch. The Plots Against the President throws light on the darkest chapter of the Depression and the moments when the fate of the American republic hung in the balance.
About the Author
Sally Denton is an award-winning author and investigative journalist. Her books include Passion and Principle, American Massacre, Faith and Betrayal, The Bluegrass Conspiracy, and The Money and the Power (cowritten with Roger Morris). She is a Guggenheim fellow and a public policy scholar at the Woodrow Wilson Center. She lives in New Mexico.
Praise For The Plots Against the President…
"[A] sure-handed narrative of how FDR faced down threats to his life and leadership… a compelling story of how close we came to a national breakdown in 1933 and how one man's leadership made all the difference."—Miami Herald
"[A] brisk, cogent narrative."
—Boston Globe
"A valuable reminder of how the four years following 1932 steered America in an uncharted direction … Readable and informative."
—Wall Street Journal
"[A] thoroughly readable primer on political discourse in the early years of the Great Depression."—
Washington Post
"[F]ascinating, heart-breaking, life-affirming… While sketching with a novelist's compassion and precision the unique actors and forces and ideas at play during the turbulent Depression years, [Denton's] account simultaneously transcends the minutia of the 1930s and reveals brilliant insights into our current condition. Yet, until the book's closing sentences, she makes no explicit comparisons, trusting the intelligent reader to draw the obvious parallels."—
BNReview.com
"The little-remembered history of the frighteningly real conspiracy against American democracy during the 1930s has never been so dramatically told. Nor has its somber warning ever been more urgently needed. This astonishing story, brought vividly to life by Sally Denton, is one that no American dare ignore, and that every true patriot must ponder."
—Ronald Steel, author of Walter Lippmann and the American Century
 "Denton traces today's right-wing "paranoid style" to the nascent fascist movement that opposed Roosevelt"
—Publishers Weekly
 "In this tale of a popular president, resentful Wall Street bankers and wacko wing-nuts, the author has found a story whose parallels to today are eerie."
—Kirkus
 "An interesting and timely reminder that economic crises threaten the survival of cherished political freedoms."
—Booklist