The Stray Sod Country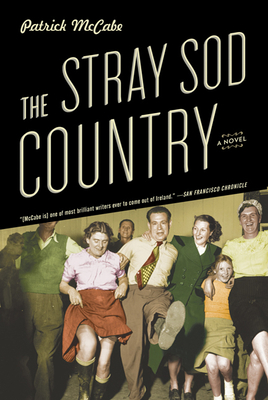 The Stray Sod Country
Bloomsbury USA, Paperback, 9781608192748, 352pp.
Publication Date: September 28, 2010
* Individual store prices may vary.
Buy at Local Store
Enter your zip code below to purchase from an indie close to you.
or
Not Currently Available for Direct Purchase
Description
It is 1958, and as Laika, the Sputnik dog, is launched into space, Golly Murray, the Cullymore barber's wife, finds herself oddly obsessing about the canine cosmonaut. Meanwhile, Fonsey "Teddy" O'Neill is returning, like the prodigal son, from overseas, with Brylcreem in his hair and a Cuban-heeled swagger to his step, having experienced his coming-of-age in Skegness, England. Father Augustus Hand is working on a bold new theatrical production for Easter, which he, for one, knows will put Cullymore on the map. And, as the Manchester United football team prepares to take off from Munich airport, James A. Reilly sits in his hovel by the lake outside town, with his pet fox and his father's gun, feeling the weight of an insidious and inscrutable presence pressing down upon him.
As these imperiled characters wrestle with their identities, mysteriously powerful narrator plucks, gently, at the strings of their fates, and watches the twitching response. This novel is a devil's-eye view of a lost era, a sojourn to the dark side of our past, one we may not have come back from. With echoes of "Peyton Place" and Fellini's "Amarcord," and with a sinister narrator at its heart, this is at once a story of a small town with its secrets, fears, friendships, and betrayals and a sweeping, theatrical extravagance from one of the finest writers of his generation.
About the Author
Patrick McCabe was born in Clones, Co Monaghan, Ireland, in 1955. His novels include Carn; The Dead School; The Butcher Boy, winner of the Irish Times/Aer Lingus Literature Prize, shortlisted for the 1992 Booker Prize and made into a highly acclaimed film directed by Neil Jordan; Breakfast on Pluto, also shortlisted for the Booker Prize; Winterwood, winner of the Irish Novel of the Year 2007 and, most recently, The Holy City. He lives in Clones.
Praise For The Stray Sod Country…
"[A] charming and often dark ensemble story … McCabe astutely paints a portrait of life in one Irish village, where people struggle both to adapt to modernity and to keep their traditional demons at bay. Historically authentic and with a timeless resonance, this tale provides an appreciable balance of humor, poignancy, and that signature Irish warmth."—Publishers Weekly