Blur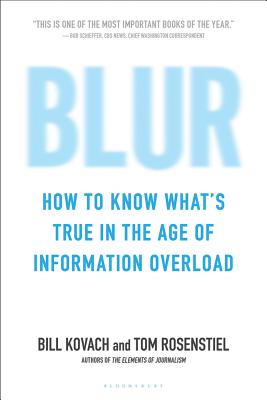 Blur
How to Know What's True in the Age of Information Overload
Bloomsbury Publishing PLC, Paperback, 9781608193011, 233pp.
Publication Date: August 30, 2011
* Individual store prices may vary.
Buy Now
or
Shop Local
Enter your zip code below to purchase from an indie close to you.
Description
Amid the hand-wringing over the death of "true journalism" in the Internet Age-the din of bloggers, the echo chamber of Twitter, the predominance of Wikipedia-veteran journalists and media critics Bill Kovach and Tom Rosenstiel have written a pragmatic guide to navigating the twenty-first century media terrain. Yes, old authorities are being dismantled, new ones created, and the very nature of knowledge has changed. But seeking the truth remains the purpose of journalism. How do we discern what is reliable? "Blur" provides a road map, or more specifically, reveals the craft that has been used in newsrooms by the very best journalists for getting at the truth. In an age when the line between citizen and journalist is becoming increasingly unclear, "Blur" is a crucial guide for those who want to know what's true.
About the Author
Kovach is the curator of the Nieman Foundation for Journalism at Harvard University.

Tom Rosenstiel designed the Project for Excellence in Journalism and directs its activities. He also serves as vice chairman of the Committee of Concerned Journalists. A journalist for more than twenty years, he is a former media critic for the Los Angeles Times and chief congressional correspondent for Newsweek magazine. Among his books, he is the author with Bill Kovach of The Elements of Journalism: What Newspeople Should Know and the Public Should Expect (2001).
Thursday, Sep 1, 2011
As the online world advances, it's become harder to distinguish news from propaganda. In Blur: How to Know What's True in the Age of Information Overload, Tom Rosenstiel argues that news consumers need to learn to vet information in the same way journalists do. More at NPR.org