The End of Sparta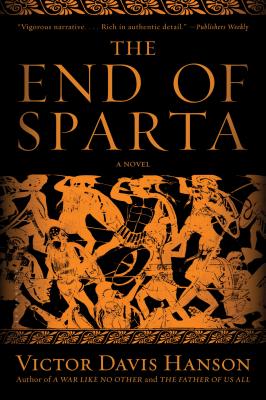 The End of Sparta
Bloomsbury Publishing PLC, Paperback, 9781608193547, 445pp.
Publication Date: May 21, 2013
* Individual store prices may vary.
Buy at Local Store
Enter your zip code below to purchase from an indie close to you.
or
Not Currently Available for Direct Purchase
Description
In this sweeping and deeply imagined historical novel, acclaimed classicist Victor Davis Hanson re-creates the battles of one of the greatest generals of ancient Greece, Epaminondas. At the Battle of Leuktra, his Thebans crushed the fearsome army of Sparta that had enslaved its neighbors for two centuries.
We follow these epic historical events through the eyes of Melon, a farmer who has left his fields to serve with Epaminondas-swept up, against his better judgment, in the fever to spread democracy even as he yearns to return to his pastoral hillside.
With a scholar's depth of knowledge and a novelist's vivid imagination, Hanson re-creates the ancient world down to its intimate details-from the weight of a spear in a soldier's hand to the peculiar camaraderie of a slave and master who go into battle side by side. "The End of Sparta" is a stirring drama and a rich, absorbing reading experience.
About the Author
Victor Davis Hanson is the Martin and Illie Anderson Senior Fellow in Classics and Military History at the Hoover Institution, Stanford University. He is a recipient of the National Humanities Medal. His many books include "A War Like No Other" and "Between War and Peace". He is a syndicated columnist for Tribune Media Services, and is the current codirector of the group on military history and contemporary conflict at the Hoover Institution.