Diet for a Hot Planet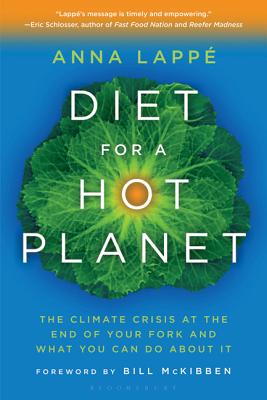 Diet for a Hot Planet
The Climate Crisis at the End of Your Fork and What You Can Do about It
Bloomsbury Publishing PLC, Paperback, 9781608194650, 323pp.
Publication Date: March 29, 2011
* Individual store prices may vary.
Buy at Local Store
Enter your zip code below to purchase from an indie close to you.
or
Buy Here
Description
Nearly four decades after her mother, Frances Moore Lappe, published "Diet for a Small Planet," sparking a revolution in our thinking about the social and environmental impact of our food choices, Anna Lappe picks up the conversation, examining another hidden cost of our food system: the climate crisis. From raising cattle in industrial-scale feedlots to razing rainforests to make palm oil for Pop-Tarts, the choices we make about how we put food on our plates, and what we do with the waste, contribute to as much as one third of total greenhouse-gas emissions. Lappe exposes the interests resisting this crucial conversation while she educates and empowers readers and eaters committed to healing the planet.
Praise for "Diet for a Hot Planet"
" An] important book When it comes to climate change, junk food may prove even more destructive than SUVs. Lappe's message is timely and empowering."-Eric Schlosser, author of "FastFood Nation"
"Accessibly written, rationally argued and focused on action over rhetoric, the book will interest parents, foodies, economists, committed vegetarians, moral omnivores, environmentalists, health enthusiasts and anyone interested in actually doing something about climate change while government responses stagnate. An essential toolkit for readers looking for a pragmatic climate-response action plan of their own."-Kirkus Reviews.
About the Author
Lappe has worked in South Africa, England, and France. She is a graduate of Brown and holds an MA from Columbia University's School of International and Public Affairs. She is cofounder of the Small Planet Fund.

Bill McKibben is American author of a dozen books about the environment, beginning with The End of Nature in 1989, which is regarded as the first book for a general audience on climate change. He is a founder of the grassroots climate campaign 350.org, which has coordinated 15,000 rallies in 189 countries since 2009. Time Magazine called him "the planet's best green journalist," and the Boston Globe said in 2010 that he was "probably the country's most important environmentalist." McKibben is a frequent contributor to various magazines including The New York Times, The Atlantic Monthly, Harper's, Orion Magazine, Mother Jones, The New York Review of Books, Granta, Rolling Stone, and Outside. He is also a board member and contributor to Grist Magazine. McKibben has been awarded Guggenheim and Lyndhurst Fellowships, and won the Lannan Prize for nonfiction writing in 2000. He is a scholar in residence at Middlebury College.
Praise For Diet for a Hot Planet…
"Accessibly written, rationally argued and focused on action over rhetoric, the book will interest parents, foodies, economists, committed vegetarians, moral omnivores, environmentalists, health enthusiasts and anyone interested in actually doing something about climate change while government responses stagnate. An essential toolkit for readers looking for a pragmatic climate-response action plan of their own."—Kirkus
"Responsibly researched and cogently articulated… an impeccable, informative, and inspiring contribution to the quest for environmental reform."—Booklist (starred)
"Anna Lappé's Diet for a Hot Planet does for the present generation what her mother's Diet for a Small Planet did for the last: empower us to think in a new way about how food affects our own health as well as that of the planet. Her inspiring book makes it clear that food choices matter to climate change and that each of us, voting with our forks, can make a real difference in ensuring a more sustainable food system. I want all my students to read this powerful book."—Marion Nestle, Professor of Nutrition, Food Studies, and Public Health, New York University, and author of What to Eat
"Anna Lappé hits this hot topic straight on and she has a cool real food solution."—Nina Planck, author of Real Food
"In this tour-de-force, Anna Lappé provides readable, lively, and much-needed answers to question that all too few of us understand: how does our food affect the planet? By guiding us with a sure hand through the fog of claims-and-counterclaims around climate change and agriculture, she inoculates us from the corporate lies that stand between us and a just, sustainable, and delicious food system. Although this diet is easily gobbled in a single sitting, its lessons will stay with you for a lifetime."—Raj Patel, author of The Value of Nothing and Stuffed and Starved
"Nothing is more important than connecting the way we eat to global warming. After all, food is an everyday need for everyone. Anna Lappé shows us that eating with intention is our responsibility and our pleasure."—Alice Waters
"As Anna Lappé reveals in this important book, we must be conscious of what we eat—not only for our own health, but for the health of the planet. When it comes to climate change, junk food may prove even more destructive than S.U.Vs. Lappé's message is timely and empowering. Instead of waiting for politicians to do the right thing, we can make simple changes to our diet, enjoy it, and help change the world."—Eric Schlosser, author of Fast Food Nation and Reefer Madness