The Fight for Home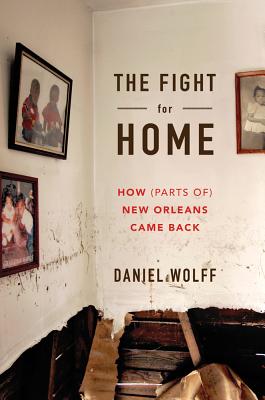 The Fight for Home
How (Parts Of) New Orleans Came Back
Bloomsbury USA, Hardcover, 9781608194797, 352pp.
Publication Date: August 7, 2012
* Individual store prices may vary.
Not Currently Available for Direct Purchase
or
Shop Local
Enter your zip code below to purchase from an indie close to you.
Description
After the devastation of Hurricane Katrina, New Orleans became ground zero for the reinvention of the American city, with urban planners, movie stars, anarchists, and politicians all advancing their competing visions of recovery. In this wash of reform, residents and volunteers from across the country struggled to build the foundations of a new New Orleans.
For over five years, author Daniel Wolff has documented an amazing cross section of the city in upheaval: a born-again preacher with a ministry of ex-addicts, a former Black Panther organizing for a new cause, a single mother, "broke as a joke" in a FEMA trailer. "The Fight for Home "chronicles their battle to survive not just the floods, but the corruption that continues and the base-level emergency of poverty and neglect.
From ruin to limbo to triumphant return, Wolff offers an intimate look at the lives of everyday American heroes. A's these lives play out against the ruined local landscape and an emerging national recession, "The Fight for Home "becomes a story of resilience and hope.
About the Author
Daniel Wolff is the author of You Send Me: The Life and Times of Sam Cooke, which won the Ralph J. Gleason Award for best music book of 1995, and he was nominated for a Grammy for his liner notes for a recent Sam Cooke box set. His journalism has appeared in Vogue, the Nation, and Doubletake, and his poetry in the Paris Review, the Partisan Review, and the Threepenny Review.


-->Ashley Wolff is the author/illustrator of more than sixty books for children, including -->Block City" by Robert Louis Stevenson, -->Baby Beluga" by Raffi, the modern-classic Miss Bindergarten series by Joseph Slate, and her own -->Stella and Roy" and -->Stella and Roy Go Camping". She lives in San Francisco with her husband and their border collie, Lucy. Visit her at AshleyWolff.com.