Shadows on the Gulf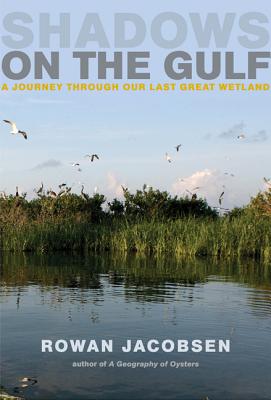 Shadows on the Gulf
A Journey Through Our Last Great Wetland
Bloomsbury Publishing PLC, Hardcover, 9781608195817, 231pp.
Publication Date: April 26, 2011
* Individual store prices may vary.
Shop Local
Enter your zip code below to find indies closest to you.
Description
While other books play the blame game of what went wrong on the Deepwater Horizon and who is responsible, "Shadows on the Gulf "offers a surprising, harder truth: As bad as the oil spill was, it doesn't touch the damage done to the Gulf every year by what one expert in the book calls "a 100-year catastrophe."
Readers who believe they know the story will find their thinking changed by Rowan Jacobsen's surprising perspective: At the height of BP's dispersant madness, the amount sprayed each day merely equaled the amount of dispersant that washes down the Mississippi from the Heartland's dishwashers and washing machines. The Gulf's shrimpers have damaged the region's ecology as much as BP has. The acres of marsh destroyed by oil slicks can't compare to the amount that disappears in every hurricane, thanks to the work of the Army Corp of Engineers. And even if we save every mile of beach and wetland from the oil spill, the entire Mississippi Delta will still be lost in the next forty years, and New Orleans will sink beneath the waves, an American Atlantis.
"Shadows on the Gulf" reveals the key players in this catastrophe and explains why it will affect quality of life for us all. In doing so, it celebrates the little-recognized global wonder in our backyard. Not only are the Gulf's wetlands the best oyster reefs and fish nurseries in the world, they also provide critical habitat to most of America's migratory songbirds and waterfowl, as well as a home base for the energy and shipping industries. If the Gulf is allowed to fail, the effects will ripple across America. And fail it will, unless a national effort is made to save it.
About the Author
Deirdre Heekin and Caleb Barber are the proprietors and, respectively, wine director and head chef of Osteria Pane e Salute, a boutique restaurant and wine bar in Woodstock, Vermont, recently acclaimed in Bon Appetit, The Boston Globe, Travel and Leisure, and Attache. Heekin and Barber grow most of their own produce in addition to working with local farm partners. In preparation for his role as head chef of Osteria Pane e Salute, Barber apprenticed with an artisanal baker and in a small trattoria in Tuscany.
Heekin and Barber live in Barnard, Vermont, where Heekin produces artisanal after-dinner brandies and micro-vintage garage wine for the osteria. Visit Deirdre and Caleb's blog, Fuoricitta (Out of The City), at http: //fuoricitta.blogspot.com/
Praise For Shadows on the Gulf…
"Shadows is not specifically about the Deepwater Horizon blowout and its aftermath—although it plays a central role in the narrative. It's brimming with engaging information about a little-known region and leavened with moments of grace." - Wall Street Journal "Brilliant… The wonderfully vivid descriptions of the landscape will place readers right by Jacobsen's side as he describes the changes to the biodiversity, environment, and culture of the Gulf region." - Library Journal