Al Capp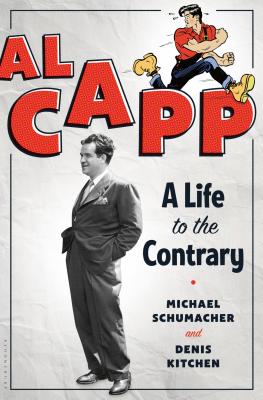 Al Capp
A Life to the Contrary
Bloomsbury Publishing PLC, Hardcover, 9781608196234, 305pp.
Publication Date: February 26, 2013
* Individual store prices may vary.
Buy Now
or
Shop Local
Enter your zip code below to purchase from an indie close to you.
Description
More than thirty years have passed since Al Capp's death, and he may no longer be a household name. But at the height of his career, his groundbreaking comic strip, "Li'l Abner," reached ninety million readers. The strip ran for forty-three years, spawned two movies and a Broadway musical, and originated such expressions as "hogwash" and "double-whammy." Capp himself was a familiar personality on TV and radio; as a satirist, he was frequently compared to Mark Twain.
Though "Li'l Abner" brought millions joy, the man behind the strip was a complicated and often unpleasant person. A childhood accident cost him a leg-leading him to art as a means of distinguishing himself. His apprenticeship with Ham Fisher, creator of "Joe Palooka," started a twenty-year feud that ended in Fisher's suicide. Capp enjoyed outsized publicity for a cartoonist, but his status abetted sexual misconduct and protected him from the severest repercussions. Late in life, his politics became extremely conservative; he counted Richard Nixon as a friend, and his gift for satire was redirected at targets like John Lennon, Joan Baez, and anti-war protesters on campuses across the country.
With unprecedented access to Capp's archives and a wealth of new material, Michael Schumacher and Denis Kitchen have written a probing biography. Capp's story is one of incredible highs and lows, of popularity and villainy, of success and failure-told here with authority and heart.
About the Author
Michel Schumacher Ph.D. was employed by the County of Orange for over 32 years in a variety of positions. He was the Chief Probation Officer for over 20 years and in that capacity supervised in excess of 20,000 adult and juvenile offenders and operated two Juvenile Halls and three other custody facilities. He was elected president of two statewide correctional organizations; the California Probation, Parole and Correctional Association (CPPCA) and the Chief Probation Officers of California (CPOC) and served as Legislative Chairman for CPOC for 13 years. For about a year Dr. Schumacher was the Director of the Orange County Health Care Agency which consists of public health, mental health, and environmental health. He also served as County Executive Officer for approximately 3 years with responsibilities for the administration of a $4.4 billion County Budget and a workforce of approximately 17 thousand employees. Dr. Schumacher has taught part-time at various colleges and universities over the past 30 years. He taught classes in criminal justice, management and social sciences at the University of California, Irvine, California State University, Fullerton and Long Beach; the University of Southern California; the U.S. International University in San Diego; the International University of Mexico (Mexico City) and Saddleback Community Collage, Mission Viejo. He is the author of numerous criminal justice and management publications. He is co-author of the book "The 8% Solution; Preventing Repeat Serious Chronic Juvenile Crime," published by Sage Publications in January 2000. Dr. Schumacher. completed his undergraduate and Masters Degrees in psychology at California State University, Los Angeles. He went on to earn a second Masters Degree in Public Administration at the University of Southern California and a Ph.D. in Human Behavior at U.S. International University in San Diego.