No More Mr. Nice Guy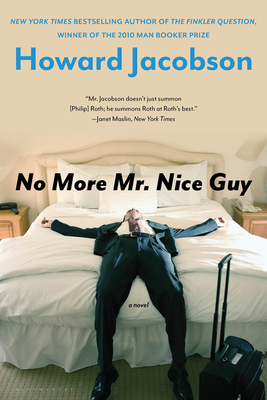 No More Mr. Nice Guy
Bloomsbury Publishing PLC, Paperback, 9781608196876, 260pp.
Publication Date: September 27, 2011
* Individual store prices may vary.
Not Currently Available for Direct Purchase
or
Shop Local
Enter your zip code below to purchase from an indie close to you.
Description
Frank Ritz is a television critic. His partner, Melissa Paul, is the author of pornographic novels for liberated women. He watches crap all day; she writes crap all day. It's a life. Or it was a life. Now they're fighting, locked in oral combat. He won't shut up, and she's putting her finger down her throat again. So there's only one thing to do: Frank has to go.
But go where? And do what? Frank Ritz has been in heat more or less continuously since he could speak his own name. Let him out of the house and his first instinct is to go looking for sex. Deviant sex, treacherous sex, even conventional sex, so long as it's immoderate-he's never been choosy. But what happens when sex is all you know and yet no longer what you want?
Praise from the UK for "No More Mr. Nice Guy"
"Brilliant and funny No More Mr. Nice Guy shows invention on every page, every paragraph. Jacobson is unique."-"Evening Standard"
"A very funny, very intelligent novel How many of Jacobson's] contemporaries have described the male condition with such wry, unsparing honesty?"-"Sunday Telegraph.
About the Author
Ne en 1942 a Manchester, Howard Jacobson est l auteur d une dizaine de romans dont "La Question Finkler", couronne par le Man Booker Prize en 2010. Surnomme le Philip Roth anglais par le "New York Times, " celui qui se prefere en Jane Austen juif - plaide pour un retour en grace du comique en litterature - (Le Monde des livres). "La Grande" "Menagerie" a recu le prix Bollinger Everyman Wodehouse 2013, qui recompense le meilleur livre comique britannique".J, " egalement selectionne pour ce prix en 2014, est le quatireme roman de l'auteur publie aux editions Calmann-levy.
- Impossible de lire Howard Jacobson sans rester beat devant la musicalite de son style, la force de ses personnages et son incroyable perspicacite. Un chef-d oeuvre. -"The Times"
"Aucune comparaison ne saurait rendre justice au livre de Jacobson qui pourait bien etre le roman dystopique anglais de son temps.""The Guardian"
Praise For No More Mr. Nice Guy…
"Frank Ritz is having the inverse of a midlife crisis. After a youth replete with free, unlimited sex, he finds at 50 that he wants none of it, even though he's just been booted from a long-term relationship. Kicked out of his London home, he still has his Saab, and with "that old truant sensation of release from homework," he starts driving. As Frank visits the towns where he had various liaisons, the story becomes a remembrance of vaginas past. Mr. Jacobson, who won the 2010 Man Booker Prize for "The Finkler Question,"  is shockingly funny. Meaning: Not only are his jokes ferocious (an Ethiopian prostitute is said to have "famine legs"), but they are consistently hilarious too. If only most of them weren't too raunchy to quote."
—Susannah Meadows, New York Times 
"Jacobson, who won the Man Booker for
The Finkler Question
, writes like a Jewish Evelyn Waugh. Laugh-out-loud observations abound."
—Publishers Weekly
"[An] entertaining, sexually laden picaresque…A lovely, lively novel for all its sometimes bitter view of the war between the sexes; impeccably written, and without a false note."
—Kirkus Reviews