Whatever It Is, I Don't Like It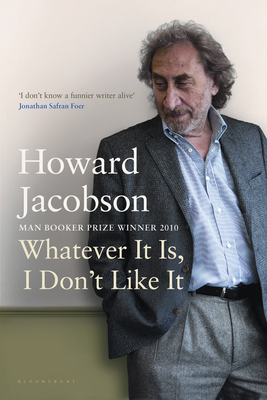 Whatever It Is, I Don't Like It
The Best of Howard Jacobson
Bloomsbury Publishing PLC, Paperback, 9781608197989, 343pp.
Publication Date: February 28, 2012
* Individual store prices may vary.
Buy at Local Store
Enter your zip code below to purchase from an indie close to you.
or
Buy Here
Description
"It takes a particular kind of man," writes Howard Jacobson, "to want an embroidered polo player astride his left nipple. Occasionally, when I am tired and emotional, or consumed with self-dislike, I try to imagine myself as someone else, a wearer of Yarmouth shirts and fleecy sweats, of windbreakers and rugged Tyler shorts, of baseball caps with polo players where the section of the brain that concerns itself with aesthetics is supposed to be. Good men return from fighting Satan in the wilderness the stronger for their struggle, and so do I."
Jacobson brims with life in this collection of his most acclaimed columns from the Independent. From the unusual disposal of his father-in-law's ashes and the cultural wasteland of Chitty Chitty Bang Bang to the melancholy sensuality of Leonard Cohen and the desolation of Wagner's tragedies, Jacobson writes with all the thunder and joy of a man possessed. Absurdity piles upon absurdity, and glorious sentences accrete to create a uniquely human collection, at times hilarious, at others heartbreaking, and always irresistibly entertaining.
About the Author
An award-winning writer and broadcaster, Howard Jacobson was born in Manchester, brought up in Prestwich and was educated at Stand Grammar School in Whitefield, and Downing College, Cambridge, where he studied under F. R. Leavis. He lectured for three years at the University of Sydney before returning to teach at Selwyn College, Cambridge. His novels include The Mighty Walzer (winner of the Bollinger Everyman Wodehouse Prize), Kalooki Nights (longlisted for the Man Booker Prize) the highly acclaimed The Act of Love and, most recently, the Man Booker Prize 2010-winning The Finkler Question. Howard Jacobson lives in London.