The Love-Charm of Bombs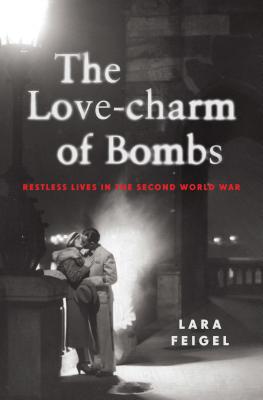 The Love-Charm of Bombs
Restless Lives in the Second World War
Bloomsbury Publishing PLC, Hardcover, 9781608199846, 519pp.
Publication Date: July 9, 2013
* Individual store prices may vary.
Buy Now
or
Shop Local
Enter your zip code below to purchase from an indie close to you.
Description
"'The nightly routine of sirens, barrage, the probing raider, the unmistakable engine ... the bomb-bursts moving nearer and then moving away, hold one like a love-charm' "--Graham Greene
When the first bombs fell on London in August 1940, the city was transformed overnight into a strange kind of battlefield. For most Londoners, the sirens, guns, planes, and bombs brought sleepless nights, fear and loss. But for a group of writers, the war became an incomparably vivid source of inspiration, the blazing streets scenes of exhilaration in which fear could transmute into love. In this powerful chronicle of literary life under the Blitz, Lara Feigel vividly conjures the lives of five prominent writers: Elizabeth Bowen, Graham Greene, Rose Macaulay, Hilde Spiel and the novelist Henry Green. Starting with a sparklingly detailed recreation of a single night of September 1940, the narrative traces the tempestuous experiences of these five figures through five years in London and Ireland, followed by postwar Vienna and Berlin.
Volunteering to drive ambulances, patrol the streets and fight fires, the protagonists all exhibited a unified spirit of a nation under siege, but as individuals their emotions were more volatile. As the sky whistled and the ground shook, nerves were tested, loyalties examined and torrid affairs undertaken. Literary historian and journalist Feigel brilliantly and beautifully interweaves the letters, diaries, journalism and fiction of her writers with official records to chart the history of a burning world, experienced through the eyes of extraordinary individuals.
About the Author
Lara Feigel completed her PhD at Sussex University on the influence of cinema on politically engaged literature in the 1930s. She is now a lecturer at King's College London and was editor of the 2007 collection A Nosegay: A Literary Journey from the Fragrant to the Fetid.
Praise For The Love-Charm of Bombs…

"Intelligent and lucidly written book is continuously interesting and illuminating, in places even brilliant."—Wall Street Journal
"Lovingly researched…this is an enterprising, lively and original work, full of striking cameos and fresh insights."—New York Times Book Review
"A strikingly original book. It succeeds in its ambitious combination of group biography and literary criticism."—The Economist
"Lara Feigel's ambitious fusion of criticism and biography… The Love-Charm of Bombs is a richly layered work… her writing radiates with poignance and insight."—Boston Globe
"An absorbing, insightful work."—Publishers Weekly

"A writerly work that entices readers to seek out the titles in question."—Kirkus Reviews
"[A] fascinating group biography...this is a compelling study of an endlessly fascinating moment in world history."—Booklist