Do Androids Dream of Electric Sheep?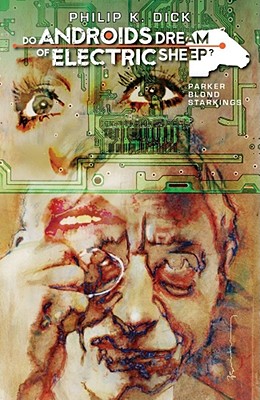 Do Androids Dream of Electric Sheep?
Boom Town, Hardcover, 9781608866410, 144pp.
Publication Date: November 1, 2011
* Individual store prices may vary.
Buy Now
or
Shop Local
Enter your zip code below to purchase from an indie close to you.
Description
The book that inspired the film Blade Runner comes to comics!
Worldwide bestselling science fiction writer Philip K. Dick's award-winning DO ANDROIDS DREAM OF ELECTRIC SHEEP? has been called "a masterpiece ahead of its time, even today," and served as the basis for the film Blade Runner. BOOM! Studios is honored to present the complete novel transplanted into the graphic novel medium, mixing all new panel-to-panel continuity with the actual text from the novel in an innovative, groundbreaking series. Volume 6 of 6.
About the Author
Philip K. Dick (1928-1982) was an American science-fiction novelist, short-story writer and essayist. A contemporary of Ursula K. Le Guin, Dick's first short story, "Beyond Lies the Wub," was published shortly after his high-school graduation. Many of Dick's works drew upon his personal experiences with drug abuse, addressing topics such as paranoia and schizophrenia, transcendental experiences and alternate reality, and the childhood death of his twin sister is reflected through the recurring theme of the "phantom twin" in many of his novels. Despite ongoing financial troubles and issues with the IRS, Dick had a prolific writing career, winning both the Hugo Award and the Nebula Award multiple times. Some of his most famous novels and stories--A Scanner Darkly, "The Minority Report," "Paycheck," and Do Androids Dream of Electric Sheep? (adapted into the film Blade Runner)--have been adapted for film. Dick died in 1982.

Tony Parker was born in Stockport on June 25 1923, the son of a bookseller. His mother died when he was 4. He began to write poems and plays in his late teens. Called up to military service early in the Second World War he declared himself a conscientious objector and, in lieu, was sent to work at a coal-mine in the North East, where he observed conditions and met people who influenced him hugely. After the war he began to work as a publisher's representative and, voluntarily, as a prison visitor - the latter another important stimulus to his subsequent writings. After Parker happened to make the acquaintance of a BBC radio producer and imparted his growing interest in the lives, opinions and self-perceptions of the prisoners he had met, he was given the opportunity to record an interview with a particular convict for broadcast on the BBC. The text of the interview was printed in the "Listener", and spotted by the publishers Hutchinson as promising material for a book. This duly emerged as "The Courage of His Convictions "(1962), for which Parker and the career criminal 'Robert Allerton' (a pseudonym) were jointly credited as authors. Over the next 30 years Parker would publish 18 discrete works, most of them 'oral histories' based on discreetly edited but essentially verbatim interview transcripts. He died in 1996 (though one further work, a study of his great American counterpart Studs Terkel, appeared posthumously.)