A Day in the Office of Doctor Bugspit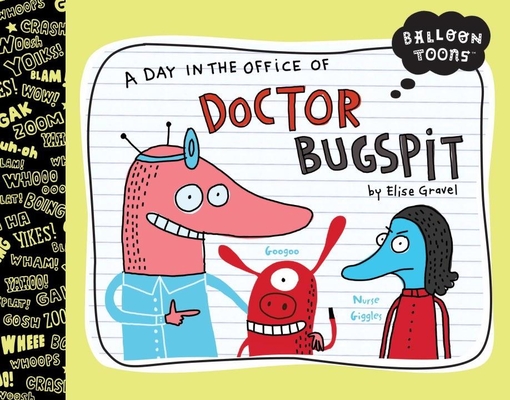 A Day in the Office of Doctor Bugspit
Blue Apple Books, Hardcover, 9781609050924, 40pp.
Publication Date: October 25, 2011
* Individual store prices may vary.
Buy at Local Store
Enter your zip code below to purchase from an indie close to you.
or
Buy Here
Description
With simple text and cartoon artwork, Balloon Toons are the the perfect way to engage and encourage new readers. Award-winning and up-and-coming cartoonists lend their inimitable and illustrative talents to entertaining stories kids will enjoy again and again.Looking like a cross between a slug and a sock puppet, alien Doctor Bugspit plies his trade. He blithely dispenses jars of "Fix-It-Up Syrup" (made from sock juice, dead flies, moldy meat, pickle juice and ear wax) and other nostrums to extraterrestrial patients complaining of maladies ranging from split brains ("You have two smaller brains," the doctor diagnoses, "like a cow") to an all-body outbreak of toes. Despite nap and lunch breaks ("my favorite sandwich: slug slime and glow-in-the-dark jelly") it's an exhausting routine but the good doctor is up to it--until, that is, the gooey results of a sneeze ("some yellow stuff is coming out of my nose ") send him into panic-stricken calls for "a REAL doctor " Presented in a loose assortment of graphic panels, page-sized or smaller, this Balloon Toons entry will exert a strong draw on budding graphic-novel fans as well as children fascinated by yucky stuff.
About the Author
Elise Gravel always liked bugs and cats and lizards and other bizarre creatures. Oh, and she also loves baby humans, who she finds very weird and adorable. The author-illustrator of Adopt a Glurb! and the Disgusting Critters series, Elise lives in Montreal, Canada, with her husband, two daughters, and two cranky cats, so she would be extremely happy if she could have a pet monster as well. Can she have one, please, please, pretty please?
Praise For A Day in the Office of Doctor Bugspit…
"Puts the comics medium to good use: tracking the visual elements of the story will help emerging readers decode the text with ease. The full-color palette is simple, and the large panels will make access even easier for inexperience comics readers." -- Booklist