The Hunger Fix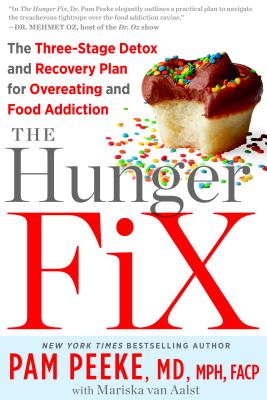 The Hunger Fix
The Three-Stage Detox and Recovery Plan for Overeating and Food Addiction
Rodale Books, Hardcover, 9781609614522, 346pp.
Publication Date: September 18, 2012
* Individual store prices may vary.
Not Currently Available for Direct Purchase
or
Shop Local
Enter your zip code below to purchase from an indie close to you.
Description
Food addiction is "real." Our body's built-in reward system, driven by the chemical dopamine, tells us to do things that give us pleasure: Creative energy, falling in love, entrepreneurship even the continued procreation of the human race are driven by this system. Unfortunately, so is the urge to overeat.
In "The Hunger Fix," Dr. Pam Peeke uses the latest neuroscience to explain how, with repeated exposure coupled with life stresses, any food can become a "False Fix" and ensnare you in a vicious cycle of food obsession, overeating, and addiction. Indeed, she shows that dopamine rushes in the body can work "exactly "the same way with food as with drugs like cocaine.
Luckily, this very same system can be easily rewired to reward us with a healthy, happy, and fulfilling life. "The Hunger Fix "lays out a science-based three-stage plan that shows us how to break our addiction to False Fixes and replace them with healthier rewards. Fun fitness activities, customized meal plans, and delicious, satisfying recipes are designed to trigger the specific neurochemical cascade that stimulates your body's reward system, reclaims your hijacked brain, and supports your lifelong recovery. Energizing Healthy Fixes such as meditating, having sex, writing your own blog, or going for a walk on the beach even laughing quickly replace the junk food, couch time, and other self-destructive habits that can leave you unhappy and overweight.
Packed with practical tips, useful advice, and plenty of wit, wisdom, and inspiring stories of those who have successfully transformed their bodies, "The Hunger Fix "is a lifechanging program for anyone (of any size) trapped by food obsessions and the urge to overeat.
About the Author
Pamela Peeke, M.D., M.P.H., F.A.C.P, is a clinical assistant professor of medicine at the University ofMarland School of Medicine, a Pew Foundation scholar in nutrition and metabolism, and an adjunct senior research fellow at the National Institutes of Health. A regular contrbutor to "Good Housekeeping, Dr. Peeke is frequently quited in O magazine, "Shape, Vogue, Fitness, Glamour, and" Redbook. She is the chief medical correspondent for Discovery Health TV and the spokesperson for its National Body Challenge. She appears as an in-studio expert for CNN and the networks.


Praise For The Hunger Fix…
"For countless men and women who have tried to lose weight and failed, The Hunger Fix offers hope of a real, permanent solution to weight gain. If you truly want to conquer your food demons, take control of your body and your health, and set yourself on the path to sustainable weight loss, The Hunger Fix is a must read."
--David Zinczencko, Editor in Chief, Men's Health and author of Eat This, Not That!

"In The Hunger Fix, Dr. Pam Peeke elegantly outlines a practical plan to navigate the treacherous tightrope over the food addiction ravine."
--Dr. Mehmet Oz, Professor and Vice-Chair, Surgery, NYP Columbia University, and host of the Dr. Oz show
 
"In her outstanding new book, The Hunger Fix, Dr. Peeke provides those afflicted with overeating and food addiction with a powerful new tool—Transcendental Meditation—to rein in impulses and control cravings. Dr. Peeke wisely makes this simple, effortless technique a key part of her holistic plan to manage food addiction, empowering men and women to enjoy a lifelong recovery."
—David Lynch, filmmaker and founder of the David Lynch Foundation
 
"As I know from countless conversations with friends, family and Zumba enthusiasts all over the world, food addiction is a real issue. I could not be more pleased to see that, with this book, it is finally getting the attention it deserves. In The Hunger Fix, Dr. Peeke not only dissects the science of food addiction in an easy-to-understand way, she also offers readers a pragmatic approach to triggering their own EpiphaME and embarking on a journey toward a healthier, happier life."
--Alberto Perlman, Co-Founder and CEO, Zumba Fitness International
 
"The Hunger Fix is revolutionary. Dr. Peeke applies her trademark holistic approach to food addiction, integrating cutting-edge mind and body science. This book offers a practical, realistic blueprint for the lifelong recovery each individual so richly deserves."
--Beth Shaw, Founder, YogaFit
 
"In The Hunger Fix, Dr. Peeke tackles one of the greatest health problems of our day with startling new insights. She addresses food addiction at its root cause rather than simply providing a diet that leaves people hungry and dissatisfied. The Hunger Fix is a must-read for anyone who wants to end overeating and food obsessions once and for all."
--Norman E. Rosenthal, M.D., Clinical Professor of Psychiatry, Georgetown University Medical School and author of the New York Times bestseller Transcendence: Healing and Transformation Through Transcendental Meditation
 
"In The Hunger Fix, Dr. Peeke shows how the foods we eat can directly alter brain chemical messengers and why some find it so challenging to just say 'no' to sugary, fatty foods. More importantly, Dr. Peeke offers solutions and tools to counter the vicious cycle of food addiction."
--Michael W. Smith, MD, Medical Director, Chief Medical Editor of WebMD.com
 
"Food addiction is a game changer in weight management. For those people who are caught in the throws of overeating and feeling hopeless and out of control, The Hunger Fix is a must read. Dr. Peeke teaches us how to use our own biochemistry and lifestyle habits to reclaim our brains and finally live a life without food and weight torment."
--Gary & Diane Heavin, Co-Founders of Curves
 
"The Hunger Fix presents research that is shockingly undeniable—food addiction is real! But there's hope for those struggling with hunger and overeating. Dr. Peeke's easy-to-follow plan will help readers rewire their brains and transform their bodies permanently. If you've tried everything and failed, this book is your savior."  
-- Chuck Runyon, Founder and CEO of Anytime Fitness and author of Working Out Sucks!

"The Hunger Fix provides people of all sizes, shapes and ages the opportunity to cast aside self-destructive behaviors, and instead get high on "Healthy Fixes." We couldn't agree more that injecting joy and fun into daily physical activity generates the real reward we're all hungering for as we seek long-term happiness and wellness!"
--Kathie and Peter Davis, Co-founders of IDEA Health & Fitness Association
 
"In this groundbreaking book, Dr. Peeke successfully links the new science of addiction with the practical realities of our primal drives for hunger and appetite. Through this mind-body connection, The Hunger Fix offers a simple lifelong weight management and lifestyle solution that touches all aspects of how we think, eat and play."
--Paul Terpeluk MD, MPH, Medical Director, Employee Health, Cleveland Clinic
 
"Diets are based on denial and deprivation—they create a vicious cycle that leaves dieters feeling addicted to food. In The Hunger Fix, Dr. Peeke explains the science and biochemistry associated with addiction and food binges and offers simple eating steps for people who feel hopeless and out of control."
--Nancy Clark MS RD CSSD Sports nutritionist and author of the best-selling Nancy Clark's Sports Nutrition Guidebook

"In The Hunger Fix, Dr. Pam Peeke guides readers through the groundbreaking new science of food addiction, helping to explain how their reward systems can be altered by exposure to certain foods.  After identifying the challenge, she provides an accessible, practical, science-based strategy to manage cravings and addictive habits for the long term."
--James O. Hill PhD, Co-Founder National Weight Control Registry, Executive Director, Anschutz Health & Wellness Center, University of Colorado
"I see a lot of cookbooks...but very few do what this one did, which was to make me rethink the way I shop and cook." --MORE Magazine (September)