Weight Loss Boss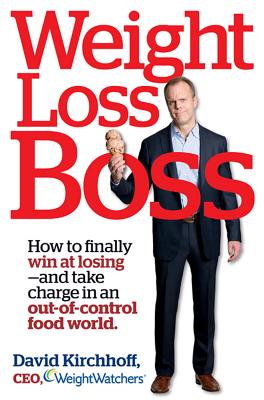 Weight Loss Boss
How to Finally Win at Losing--And Take Charge in an Out-Of-Control Food World
Rodale Books, Hardcover, 9781609619015, 272pp.
Publication Date: May 8, 2012
* Individual store prices may vary.
Buy at Local Store
Enter your zip code below to purchase from an indie close to you.
or
Not Currently Available for Direct Purchase
Description
"Weight Loss Boss" is a frank, funny, and groundbreaking guide to surviving and thriving in an obesogenic world, from the CEO of Weight Watchers International.
We live in a dangerous food world, full of temptation and instant gratification. No wonder obesity among Americans has tripled since the 1960s and that those prone to weight gain fail over and over to maintain their hard-won goals. Simply put, our brains and environments are stacked against us. Simplistic willpower-based and food-focused diets will never bring lasting change.
But a solution is within reach one that will help readers live better, longer, and more happily.
In fact, David Kirchhoff isn't just the President and CEO of Weight Watchers he's also one of its biggest success stories. In his pursuit of a trim physique, Kirchhoff divulges his slide into full-fledged obesity, his struggles to manage his relationship with food, and to find an exercise regimen that sticks. Drawing on the latest scientific research and numerous other inspiring personal stories, he makes the case that the "only" recipe for long-term success is to radically shift our mindset when thinking about obesity and adopting a healthy lifestyle that stays with us for good. This requires incorporating positive habits that become second nature, and rigorously managing one's food environment as well as embracing practical behavior-change tools and other sustainable maintenance strategies. In the light of a new, healthier lifestyle that helps readers look good and feel good, change isn't a burden--it's a release.
All author royalties will be donated to Share Our Strength (www.strength.org), a nonprofit organization that supports the goal of ending childhood hunger in the U.S. by 2015.
About the Author
David Kirchhoff is the President and CEO of Weight Watchers International, which reaches 1.5 million people through its meetings each week. He lives in Fairfield County, CT.
Praise For Weight Loss Boss…
"A refreshing, authentic look at the struggle of losing weight and maintaining it by the head of one of the most successful weight-loss brands in the world . . . Kirchhoff's advice and tips are realistic, relatable, practical for everyone, and they pave the way for a sustainable, healthy lifestyle" -- Jennifer Cohen, FORBES.com
"In his inspiring new book, Weight Loss Boss, WW's charismatic leader tells his own story and offers a myriad of tips for weight-challenged readers." -- TIME.com
"A breezy read" … "The book paints him as likably [sic] neurotic and vulnerable, someone for whom merely opening up a carton of ice cream can prompt a 'kind of narcotic effect.'" Simon Houpt "The Skinny on Weight Watchers"—The Globe and Mail