God Bless You, Dr. Kevorkian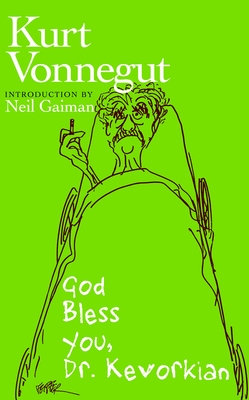 God Bless You, Dr. Kevorkian
Seven Stories Press, Paperback, 9781609800734, 93pp.
Publication Date: December 14, 2010
* Individual store prices may vary.
Buy at Local Store
Enter your zip code below to purchase from an indie close to you.
or
Buy Here
Description
From Slapstick's "Turkey Farm" to Slaughterhouse-Five's eternity in a Tralfamadorean zoo cage with Montana Wildhack, the question of the afterlife never left Kurt Vonnegut's mind. In God Bless You, Dr. Kevorkian, Vonnegut skips back and forth between life and the Afterlife as if the difference between them were rather slight. In thirty odd "interviews," Vonnegut trips down "the blue tunnel to the pearly gates" in the guise of a roving reporter for public radio, conducting interviews: with Salvatore Biagini, a retired construction worker who died of a heart attack while rescuing his schnauzer from a pit bull, with John Brown, still smoldering 140 years after his death by hanging, with William Shakespeare, who rubs Vonnegut the wrong way, and with socialist and labor leader Eugene Victor Debs, one of Vonnegut's personal heroes.
What began as a series of ninety-second radio interludes for WNYC, New York City's public radio station, evolved into this provocative collection of musings about who and what we live for, and how much it all matters in the end. From the original portrait by his friend Jules Feiffer that graces the cover, to a final entry from Kilgore Trout, God Bless You, Dr. Kevorkian remains a joy.
About the Author
Kurt Vonnegut was a master of contemporary American Literature. His black humor, satiric voice, and incomparable imagination first captured America's attention in "The Siren's of Titan" in 1959 and established him as "a true artist" with "Cat's Cradle" in 1963. He was, as Graham Greene has declared, "one of the best living American writers."

Neil Gaiman is the #1 New York Times bestselling author of more than twenty books, and is the recipient of numerous literary honors. Originally from England, he now lives in America.