The Story of the Blue Planet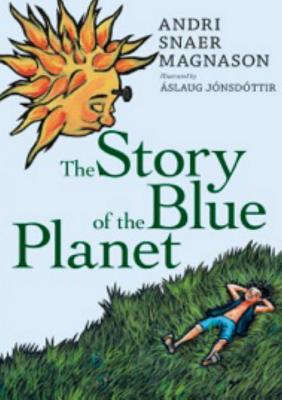 The Story of the Blue Planet
Triangle Square, Hardcover, 9781609804282, 96pp.
Publication Date: November 27, 2012
* Individual store prices may vary.
Buy at Local Store
Enter your zip code below to purchase from an indie close to you.
or
Not Currently Available for Direct Purchase
Description
Brimir and Hulda are best friends who live on a small island on a beautiful blue planet where there are only children and no adults. Their planet is wild and at times dangerous, but everything is free, everyone is their friend, and each day is more exciting than the last.
One day a rocket ship piloted by a strange-looking adult named Gleesome Goodday crashes on the beach. His business card claims he is a "Dream.ComeTrueMaker and joybringer," and he promises to make life a hundred times more fun with sun-activated flying powder and magic-coated skin so that no one ever has to bathe again. Goodday even nails the sun in the sky and creates a giant wolf to chase away the clouds so it can be playtime all the time. In exchange for these wonderful things, Goodday asks only for a little bit of the children's youth--but what is youth compared to a lot more fun? The children are so enamored with their new games that they forget all the simple activities they used to love.
During Goodday's great flying competition, Hulda and Brimir fly too high to the sun and soar to the other side of planet, where they discover it is dark all the time and the children are sickly and pale. Hulda and Brimir know that without their help, the pale children will die, but first they need to get back to their island and convince their friends that Gleesome Goodday is not all that he seems.
A fantastical adventure, beautifully told, unfolds in a deceptively simple tale. "The Story of the Blue Planet "will delight and challenge readers of all ages.
"From the Trade Paperback edition.
About the Author
Andri Snaer Magnason is one of Iceland's most celebrated young writers. Hehas written poetry, plays, fiction, and non-fiction, and in 2009 he co-directed the documentary"Dreamland," which was based on his book"Dreamland: A Self-HelpManual for a Frightened Nation." In 2002"LoveStar"was named "Novel ofthe Year" by Icelandic booksellers and received the DV Literary Awardand a nomination for the Icelandic Literary Prize. "LoveStar"was also shortlisted for the 2013 Philip K. Dick Award.His children's book, "The Story of the Blue Planet" now published or performed in twenty-sixcountries was the first children's book to receive the IcelandicLiterary Prize, and was also the recipient of the Janusz KorczakHonorary Award and the West Nordic Children's Book Prize. Andri is thewinner of the 2010 Kairos Award.

Aslaug Jonsdottiris an illustrator, author of children s books, artist, and graphic designer. She has written and illustrated several books for children, amongst them"The Egg"("Eggi"o, 2003), "I Want Fish!"(Eg vil fisk! 2007), and the award-winning"Good Evening"(Gott kvold, 2005), which received The Bookseller s Prize as the best children s book of 2005, The Icelandic Illustration Award, The Reykjavik Educational Council Children s Book Prize, and was nominated for The Nordic Children s Book Award.

Julian Meldon D Arcy is Professor of English Literature at the University of Iceland. He has written books on Scottish literature and sports, and has translated novels, poetry, and films from Icelandic, including the children s books"Flowers on the Roof"and"The Fisherman s Boy and the Seal." "From the Trade Paperback edition.""
Praise For The Story of the Blue Planet…
"Magnason's writing is lean, swift and often lyrical. . . immensely satisfying — a major contribution to the sparsely populated eco-lit genre, and one that could entice other authors to contribute."—The New York Times Book Review

"Magnason's beautifully illustrated and expertly translated book is charming, eccentric, moving, and humbling – often reminiscent of Roald Dahl or William Steig.  It's a magical coming-of-age story that may also remind adults to appreciate the here and the now, and that the grass on the other side may appear greener, but that doesn't mean it's better."—Typographical Era

"It's a delightful and pointed tale. Indeed, The Story of the Blue Planet, aided by Aslaug Jonsdottir's fanciful and evocative illustrations, raises important issues about greed, collaboration, friendship and trust that will kick-start discussions among children and their caretakers. Home and school libraries would do well to add it to their collections."—Truthout

"The sound ecological message that is conveyed in The Story of the Blue Planet has justifiably met with widespread international acclaim, with the book having won numerous highly sought-after prizes, and being the first chidren's book to be awarded the Icelandic Literary Prize."—Book Pleasures

"Adventurous and entertaining...the illustrations are lovely and offer a visual stimulus for the story."—Books for Kids  

"Those who enjoyed Adam Gidwitz's A Tale Dark and Grimm (Dutton, 2010) may find Magnason's cautionary ecological tale a perfect complement. Well-paced, with some wonderful, story-enhancing color illustrations."—School Library Journal