What Makes a Baby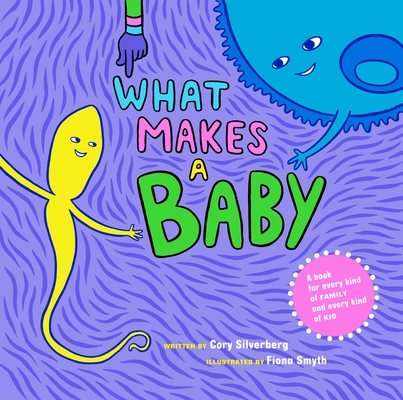 What Makes a Baby
Triangle Square, Hardcover, 9781609804855, 36pp.
Publication Date: May 7, 2013
* Individual store prices may vary.
Buy Now
or
Shop Local
Enter your zip code below to purchase from an indie close to you.
Description
"What Makes a Baby" is extraordinary Cory is a Dr. Spock for the 21st century. Susie Bright
A Truly Inclusive Way to Answer the Question 'Where Do Babies Come From?': The new book "What Makes a Baby" offers an origin story for all children, no matter what their families look like." "The Atlantic
"
"This is a solid, occasionally quirky book on an important topic."" School Library Journal"
Geared to readers from preschool to age eight, "What Makes a Baby"is a book for every kind of family and every kind of kid. It is a twenty-first century children's picture book about conception, gestation, and birth, which reflects the reality of our modern time by being inclusive of all kinds of kids, adults, and families, regardless of how many people were involved, their orientation, gender and other identity, or family composition. Just as important, the story doesn t gender people or body parts, so most parents and families will find that it leaves room for them to educate their child without having to erase their own experience.
Written by sexuality educator Cory Silverberg, and illustrated by award-winning Canadian artist Fiona Smyth, "What Makes a Baby"is as fun to look at as it is useful to read.
Praise For What Makes a Baby…
"This is a solid, occasionally quirky book on an important topic." —School Library Journal

"It's an informative and entertaining read for kids of all parents, straight or queer. And, hey, even if your kids were conceived the old-fashioned way, they should know not everyone was—and why."
—Queerty

"What Makes a Baby aims to be just about the most inclusive sex ed book for kids you've ever come across[...] it has none of this mommy and daddy love each other and he watered her flower with his watering can and then a baby was born stuff;What Makes a Baby is for kids around four to eight years of age, teaching them about"conception, gestation, and birth" using really specific language."
—Jezebel

"What Makes a Baby is a delightful, touching, brilliantly written and beautifully illustrated book that really is 'for every kind of family, and every kind of kid.' It creates space for parents to answer questions about reproduction in an age appropriate way and in a way that also speaks to the reality of their family and those around them. Kids and their grown-ups will love this book!"
—Jolanta Scott-Parker, Executive Director, Canadian Federation of Sexual Health

"Cory Silverberg's What Makes a Baby offers a combination so rarely captured in children's books; beauty and meaning, fact and nuance, and most importantly the opportunity for all of us to see ourselves in these pages.  A book explaining pregnancy and childbirth that accounts for the wonderfully diverse ways babies are made is a gift."  
—Nadya Burton, PhD, Midwifery Education Program at Ryerson University

"The book talks about where babies come from in a way that encompasses kids who are adopted, conceived using reproductive technologies, through surrogacy, or the old-fashioned way, and regardless of how many people were involved, their orientation, gender, and other identity, or family composition. Author and sex educator Silverberg nails it, as does award-winning Canadian artist Fiona Smyth, who illustrated the book."
—The Advocate

"Designed for all kinds of children in all kinds of families, this will be particularly welcome in adoptive and non-traditional families but is, uniquely, an appealing and informative complement to early sex-education discussions with any child."
—Kirkus Reviews

"Smyth's cartoons recall the work of Todd Parr, with a bright crayon-box palette. Silverberg's writing is informative yet sufficiently general to let adults tailor the accompanying conversations as needed. A useful springboard for conversations about childbirth, no matter the family."
—Publisher's Weekly

"Silverberg's quest to exclude no one means he omits much in the book – including any mention of sex. The point, he says, is to get children asking questions but letting parents answering them with however much detail they see fit."
—The Globe and Mail 

"What Makes A Baby" presents factual information on conception on a kid's level. With text that is open to personal embellishment, this book is sure to cater to many families and birth experiences."
—Green Parent Chicago

"The new book What Makes a Baby offers an origin story for all children, no matter what their families look like."
—The Atlantic

"LGBT parents—and any others who have ever struggled to explain reproduction to their young children in a way relevant to their families—will rejoice at the new picture book What Makes a Baby. In 32 vibrant pages, Toronto-based author Cory Silverberg explains how babies are made—in a way that works for all family structures, ways of family creation, and parents' gender identity."
—Bay Windows

"Our family needed this book. Your family needs this book. In fact, I can't think of a family."
—Philadelphia Family Pride

"What Makes a Baby is not a book that gives answers," he says. "This is a book that creates a platform for parents to have a conversation with their kids."
—Philadelphia Enquirer

"Now parents can have easy-going, straightforward, and (hopefully) painless discussions with kids about the miracle of birth!"
—Parents