Minecraft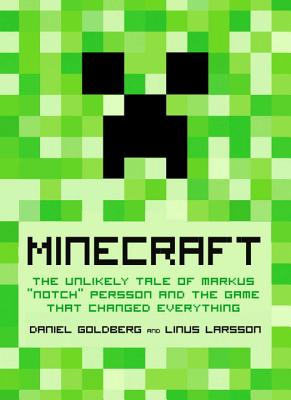 Minecraft
The Unlikely Tale of Markus "Notch" Persson and the Game That Changed Everything
Seven Stories Press, Hardcover, 9781609805371, 255pp.
Publication Date: October 17, 2013
* Individual store prices may vary.
Buy at Local Store
Enter your zip code below to purchase from an indie close to you.
or
Buy Here
Description
A completely unique and in-depth look at the creator of Minecraft, Markus "Notch" Persson, and his rise from unknown computer programmer to multi-millionaire international gaming icon.Minecraft, the "virtual Lego" game Markus crafted in his free time, has become one of the most talked about activities since Tetris. Talked about by tens of millions of people, in fact.It is the story of unlikely success, fast money, and the power of digital technology to rattle an empire. And it is about creation, exclusion, and the feeling of not fitting in.
Here Markus opens up for the first time about his life. About his old Lego-filled desk at school. About the first computer his father brought home one day. But also about growing up in a family marked by drug abuse and conflict.But above all it is the story of the fine line between seeming misfit and creative madman, and the birth of a tech visionary.
"Minecraft: The Unlikely Tale of Markus "Notch" Persson and the Game that Changed Everything"is a Cinderella story for the Internet age.
About the Author




Jennifer Hawkins grew up in Southern California. For more than a decade, she was a competitive swimmer, earning a spot at the Olympic trials in 1988. In 1991, she moved to Texas where she became a successful realtor, investor, and author. In 2000, she met her husband Mark and soon after started a family. Jennifer still lives in Texas with her two boys, Connor and Brannon, and the many friends that add richness to her life every day.
Praise For Minecraft…
"You may find this book as addictive as Minecraft."—Slate

"At the core of the story of Minecraft is the lesson that success is possible, if you have a good idea and the passion and skill to pursue it. Minecraft is indeed an unlikely tale. That's what makes it so great, and that's why this little book will make a terrific holiday gift for the gamer in your life."—Andrew Leonard, Salon

"Minecraft is a beautifully human story...it's well worth a read and offers, at the very least, inspiration, and at the very most, hope."—TechCrunch

"This book takes his story and gives you a closer look. You learn about the man behind the game. His childhood, his family, the growth of his company and the lives of the people who work there. It doesn't just give you the big enormous, glamour-filled cut scenes that you read about on the Internet. This book gives you the pixels, the details."—Book Riot

"Suspenseful, grounded, and startlingly relatable. I expected a book about Minecraft; what I got was a compelling story about personal struggle and accomplishment. A perfect gift for Minecraft players, parents of younger players, or anyone interested in indie games."—Game Skinny

"Pulls itself along with the narrative compulsion of a tech biography...outlines a cultural phenomenon in ways that even those who've missed out up 'til now can understand."—The Stranger

"I have been following Minecraft closely for over three years, and yet this book consistently surprised me with new insights into the game's development.  It focuses on the human story behind all those pixellated blocks. I have a new respect for Notch's accomplishments with Minecraft and for all the hard work that the Mojang'ers have devoted to making the game such a phenomenon. This book offers a fascinating and honest peek into the mind of the man who made Minecraft a reality."—Joel Levin, MinecraftEdu co-creator 

"This book explores the man behind the game to a depth that you won't, and that you can't, find anywhere else. In this work, Markus "Notch" Persson has revealed everything about the events that led to an international super-phenomenon. The resulting story will fascinate and inspire."—Sethbling, Minecraft video maker