If This Isn't Nice, What Is?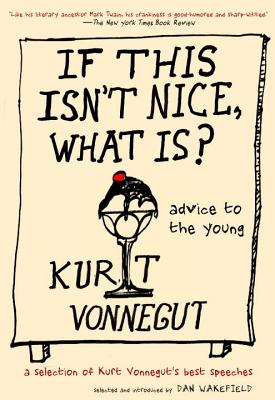 If This Isn't Nice, What Is?
Advice to the Young: The Graduation Speeches
Seven Stories Press, Hardcover, 9781609805913, 123pp.
Publication Date: April 8, 2014
* Individual store prices may vary.
Buy at Local Store
Enter your zip code below to purchase from an indie close to you.
or
Not Currently Available for Direct Purchase
Description
Best known as one of our most astonishing and enduring contemporary novelists, Kurt Vonnegut was also a celebrated commencement address giver. He himself never graduated college, so his words to any class of graduating seniors always carried the delight, and gentle irony, of someone savoring an achievement he himself had not had occasion to savor on his own behalf.
Selected and introduced by fellow novelist and friend Dan Wakefield, the speeches in "If This Isn t Nice, What Is? "capture this side of Kurt Vonnegut for the first time in book form. There are nine speeches, seven given at colleges, one to the Indiana Civil Liberties Union, one on the occasion of Vonnegut receiving the Carl Sandburg Award. In each of these talks Vonnegut takes pains to find the few things worth saying and a conversational voice to say them in that isn t heavy-handed or pretentious or glib, but funny and serious and joyful even if sometimes without seeming so.
About the Author
Kurt Vonnegut is the legendary author of dozens of books, including "Timequake, Breakfast of Champions, Slaughterhouse-Five, " and, with Lee Stringer, "Like Shaking Hands with God, " which is available from Washington Square Press.

Dan Wakefield is a novelist, journalist, and screenwriter. He has won a Rockefeller grant for creative writing and a National Endowment of the Arts Award. He is the author of many books, including The Story of Your Life: Writing a Spiritual Autobiography (Beacon Press) and Returning: A Spiritual Journey (Beacon). Wakefield is also author of "Spiritually Incorrect," an ongoing Beliefnet.com column. His memoir New York in the 50's is now a documentary film showing on The Sundance Channel. His novel Going All the Way was turned into a movie starring Ben Affleck. Dan Wakefield can be contacted at www.DanWakefield.com.
Praise For If This Isn't Nice, What Is?…
"Like [that of] his literary ancestor Mark Twain, Kurt Vonnegut's crankiness is good-humored and sharp-witted."—A.O. Scott in The New York Times Book Review